Q&A with the Packaging Doctor
Our popular Packaging Doctor has been out of office for a while but has recently returned to the surgery to singlehandedly diagnose and treat all your packing enquiries. At Kite, we've been helping people for over 20 years with our team of over 315 packaging specialists, in-house engineers and technical experts, to name just a few. Our practice never sleeps with our telesales staff having grown in size in the past year to accommodate demand and ensure that no patient is left out in the cold. Now, after a long period of furlough, the leading Doctor themselves is back and has kindly agreed to speak with us today.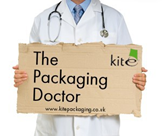 Hello! Long time, no see, hey?
Hi there! It is great to be back at work, I don't think I could've hacked another Zoom quiz.
We can relate to that one. Firstly, why don't you share exactly what the Doctor does?
Well, I work at Kite Packaging to treat patients suffering from packaging dilemmas. This could be anything from decoding industry jargon, for example, what it means for packaging to be die-cut, to answering very specialist questions such as how to package a handmade lightsaber!
Wow, that is quite a range! In order to diagnose solutions for all these different problems you must be very knowledgeable then?
Well, that's very kind of you to say. Like all medical professionals, I have studied my area for a number of years. However, the products businesses sell are always changing and developing to suit gaps in the market and changes in consumer habits. During lockdown, there has been a surge in letterbox gifts including care packages, brownies and other baked goodies, for example. Therefore, it is important that I am adaptable in my approach, constantly learning and always consulting other members of my team to deliver the best advice I can. Thankfully, Kite has a skilled team of researchers who are always investigating the new solutions on the market, finding different ways to make the most out of our existing range and generally catering to unique products.
That's amazing! It sounds as though you are able to collaborate with various people applying different skillsets. I'm curious though, what's the most unusual item you've been asked about?
Oh, that is hard to say! I've been asked about transporting live birds safely, a charity company once enquired about some basic packaging for sleeping rough and more recently, I was asked how to package medical implants. Every day, our staff receive hundreds of phone calls and messages with unique questions and of course, patients are always getting in touch directly through my email address. The variety certainly keeps my job interesting and I love hearing about all the different things Kite's customers are sending out into the world.
On the other end of the scale, what are some of the most frequently asked questions about packaging?
We've received a lot of queries about how to package brownies and bottles of alcohol recently which I feel sums up lockdown culture quite well!
Ah, that one certainly hits close to home… so, who is the Doctor for and how do patients get in touch?
The team and I are for everyone: businesses large or small, or even individuals. Kite Packaging sell wholesale to keep prices as competitive as possible, so if you have a significant number of items to package and have run into a problem, then the Doctor can help you. As for getting in touch, simply send an email over to packagingdoctor@kitepackaging.co.uk or reach out through Twitter @kitepackaging.
The Doctor's office hours are now open with selected dilemmas being shared every Monday.
Note: All the packaging problems our doctor receives are real queries from customers or non-customers. If you have a packaging problem that needs diagnosing, get in touch at Twitter @kitepackaging or email packagingdoctor@kitepackaging.co.uk