Re-Packaging Sharp Metal Products For Protection – The Packaging Doctor
The Surgery Is Now Open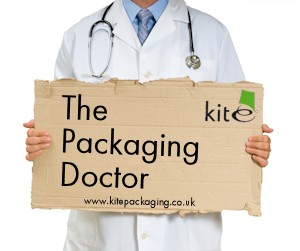 Dear Packaging Doctor,
I run a small business that sells car parts and accessories online, this includes air fresheners, mirrors, steering wheel locks and much more. Our most recent addition to our range is Carlashes – the metal eyelashes you can apply to car headlights. We're really excited about the product launch as these have become really popular among female drivers however the original packaging isn't as protective as we'd like it to be and is already causing the product to be damaged. Our plan is to re-package the product – do you have any ideas?
If it helps the Carlashes are 12 inches (L) X 7 inches (H) and made from PVC. They are applied on the car headlights using 3M auto tape.
Thanks, Jamie
Hi Jamie,
An unusual product indeed! These types of car accessories are a lifestyle choice and therefore should be presented in an attractive way to please the customer. For online businesses such as yours our white postal boxes are ideal, the hinged lids are a great addition to this box for added presentation and ensure the box stays secure in the post.
We have made sure all our postal boxes are in line with the Royal Mail Pricing in Proportion guidelines; this means they can be easily sent through the post at a set price – making the postal process easier and cost effective. I would suggest our largest size 375 x 255 x 150 mm box to fit your product effectively. This also gives room to include any spare parts if necessary.
To ensure that the product isn't damaged in transit I would suggest carefully wrapping the product in bubble wrap or using our Mini Air machine to produce extra tough air cushions hat won't be pierced or burst. These are incredibly cost effective and will protect even the most delicate of products. I would suggest using the quilted cushion (a layer underneath and a layer on top) for the Carlashes.
Thanks, The Packaging Doctor

Note: All the packaging problems our doctor receives are real queries from customers or non-customers.
If you have a packaging problem that needs diagnosing
get in touch on Twitter @kitepackaging
or email packagingdoctor@kitepackaging.co.uk