Our business is always looking for new ways to help customers make informed choices about the packaging products they buy. As it is officially recycle week, we thought it was the perfect time to share with you some of these great products.
As a packaging company, we understand the effect that materials can have on the environment. We believe that quality packaging doesn't have to cost the earth, and therefore have our unique range of environmentally friendly packaging to reduce the impact the materials have on the planet.
We have Kite Environmental Solutions, which is a Government Accredited Compliance Scheme for the Packaging Regulations and also have a range of products that have been designed so that they are fully recyclable, made from recycled content or simply support businesses in reducing the amount of waste it generates.
Our Enviroboxes are ideal for shipping all kinds of goods – even heavy items. Available in a range of different sizes, they are perfect for logistics businesses and for shipping large quantities of product. The larger sizes also have hand holes for easier lifting and many sizes have a multi-score feature for versatility.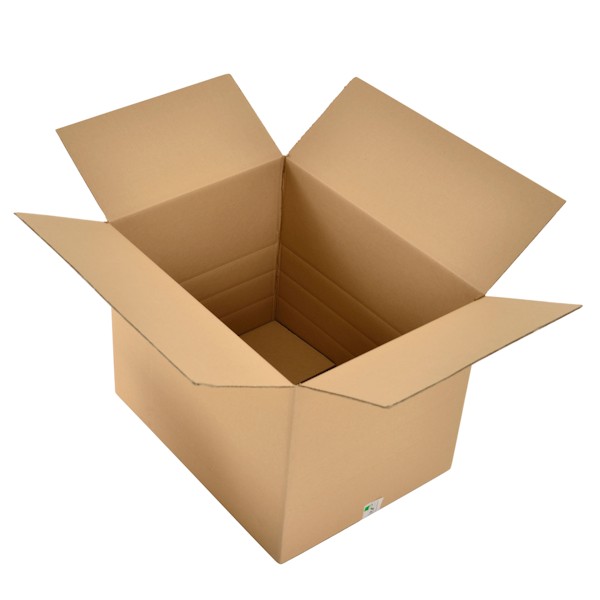 Alternative to: Double Wall Boxes
Environmental credentials:
7% lighter than double wall cardboard, reducing transport costs
Environmentally friendly manufacturing process, resulting in 30% less CO2 emissions
50% reduction in cardboard waste compared with double wall cartons
Kite's Envirotape is a 150-metre tape (regular tape is around 66m) and comes on a smaller core to reduce cardboard waste. Available in acrylic for ambient environments and hot melt for colder environments (such as refrigeration).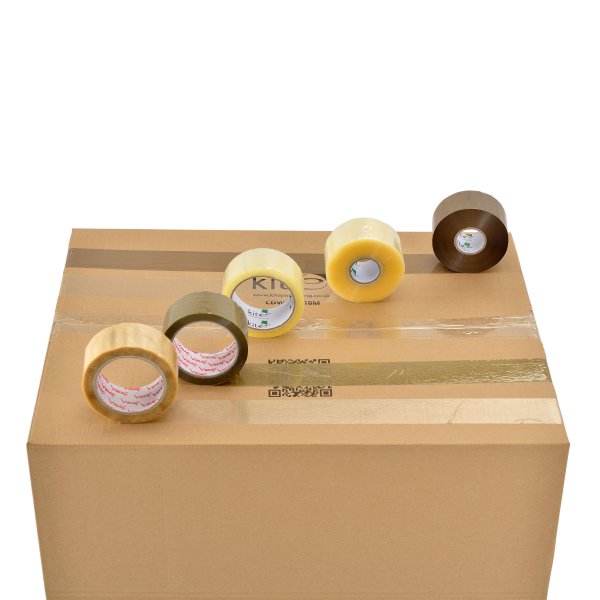 Alternative to: Standard 66m Packaging Tape
Environmental credentials:
63% reduction in cardboard waste due to a smaller core and more tape per roll
45% more tape on a roll to reduce packaging costs and CO2 emissions through delivery
Stretch film is a huge consumable for many operations, however, the size of the product often means tons of cardboard is thrown away each year as the rolls of films are used. Enviro-stretch has been designed to tackle this issue and is completely coreless so that cardboard waste is reduced entirely. The rolls can be used on a standard dispenser for ease of wrapping, and is available in both 17 and 20 micron so that it is suitable for medium duty and heavy duty use.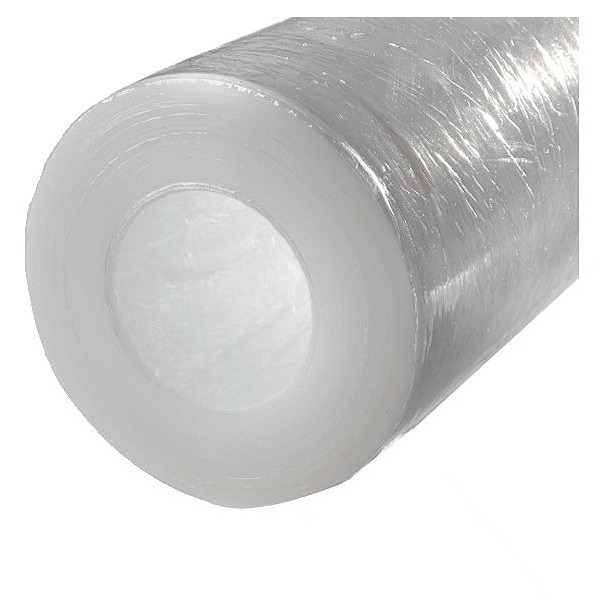 Alternative to: Standard Pallet Wrap
Coreless design means a 100% reduction in cardboard waste
25% wider than standard pallet wrap so less wraps are required, saving transport costs and waste
EcoFlo is a starch based loose fill that is still one of the most popular void filling materials. Available in 15 cubic feet bags, the chips have a cylindrical design to manoeuvre around products perfectly and have been proven to offer better protection than polystyrene chips. Loose fill chips are not only great at filling holes to prevent products moving in transit but also act as a great shock absorber to prevent against damage.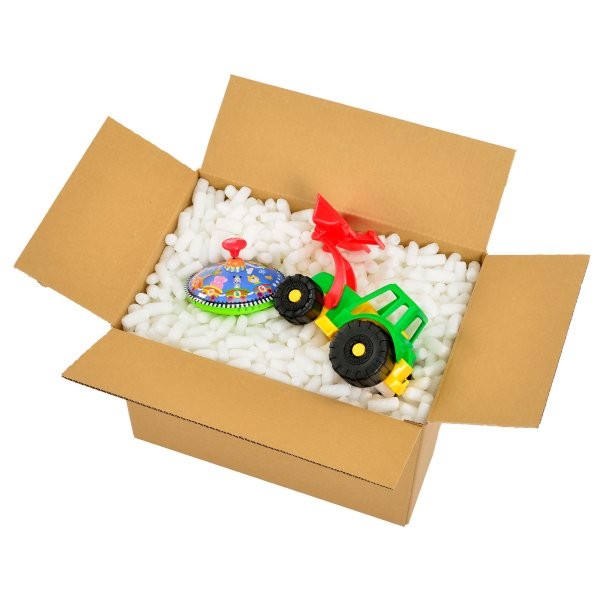 Alternative to: Polystyrene Loose Fill Chips
Environmental credentials
Made from starch, these chips are 100% biodegradable and 100% compostable
Contain no hazardous decomposition products to protect the environment and create minimum impact once disposed of
Popular in varying industries, particularly mail order and e-fulfilment they offer a peel and seal closure for easy packing and security and a Kraft paper outer which has excellent burst and tear resistant qualities. Bubble lined envelopes are brilliant for offering a protective solution to smaller products, as they surround goods in a protective sleeve to reduce damages.  Our Arofol envelopes are also available in two colours – white and gold to suit your business needs.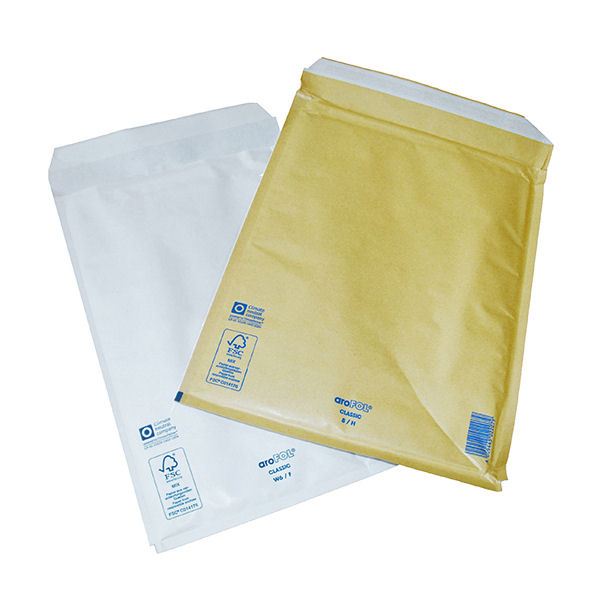 Alternative to: Jiffy AirKraft Mailers
Environmental credentials:
Manufactured from FSC (Forest Stewardship Council) approved paper to promote responsible forestry
100% recyclable
Manufactured in a climate-neutral way to ensure no negative impact on the environment
No solvents used in production
Created as an end-to-end transit system, the unique half UK pallet size plastic pallet box is the only stackable and nestable product of its size. Eliminating the need for pallets, the patented design provides the perfect balance of carrying capacity and easy handling It is designed to be lifted directly with the appropriate machinery, such as forklifts, pump trucks or the specially designed plastic pallet box lifter.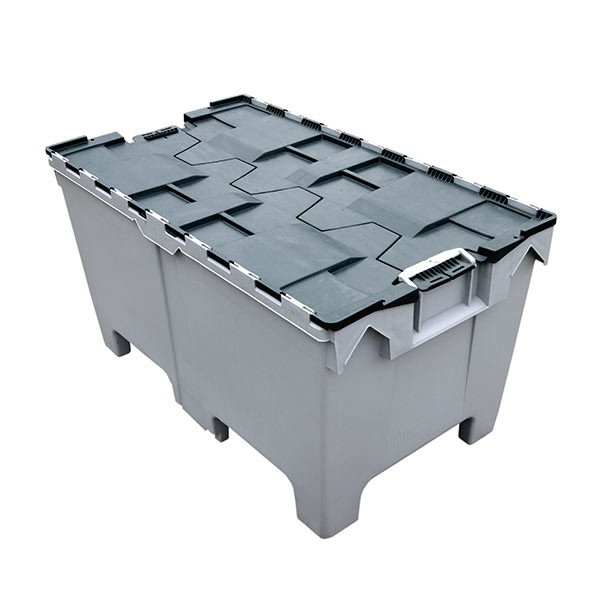 Alternative to: Pallets and Pallet Wrap
Environmental credentials:
Reusable, therefore eliminates packaging waste
Stackable and nestable, increasing vehicle fill
Reduce labour, transport and consumable costs
We also stock paper carrier bags manufactured from strong Kraft paper ethically sourced from sustainable forests and can be recycled after use. With the new 5p government charge, these bags are ideal.
Recycled paper rolls that are kind to the environment, they offer great versatility and are fully recyclable. Suitable for covering boxes, books and parts to protect against scratches.
Our polythene mailing bags have been manufactured from 100% recyclable materials, to see our full range visit www.kitepackaging.co.uk