Royal Mail Updates Pricing Structure
Size Matters As Royal Mail Updates Pricing Structure
At Kite we like to keep our customers in touch with the latest packaging developments and how these might affect them. This is why we are keen to inform you about the changes Royal Mail made to its pricing structure from April 2nd.
It comes as no surprise that for any business selling items online or through mail order, postal charges can impact heavily on profit margins, and the new size based pricing structure for parcels has caused some confusion among business owners both large and small.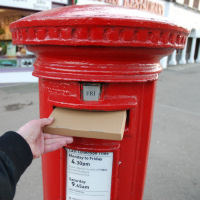 The new size requirements do not affect 'Letter' and 'Large Letter' formats, but the former 'Packet' and 'Parcel' categories have been replaced by 3 new sizes: 'Small Parcel', 'Medium Parcel' and 'Large Parcel'. Strict new size criteria make it even more important to ensure that the packaging selected is fit for purpose and that size is taken into account.
The new requirements
Many goods sent in the post, from clothing to board games and large books can be sent as Small Parcels. These must weigh no more than 2kg and measure no more than 450 x 350 x 80mm, or 160 x 160 x 160mm. Postal tubes up to 450mm long with a diameter of up to 80mm also count as small parcels.
If your goods are slightly larger (or heavier) you can opt to send them as a Medium Parcel instead. This can measure up to 610 x 460 x 460mm, with a weight of no more than 20kg. A postal tube with a length of up to 900mm also qualifies.
Few goods you would want to send by post fall into the Large Parcel category, which includes anything larger than the sizes above and costs considerably more to send. If you are sending multiple goods as one package, it might be cheaper to split them into several smaller consignments.
Save money by selecting the right size
It is important to check the dimensions of goods you are sending through the post in advance to ensure that you (or the recipient) are not charged for excess postage. Also, by sticking to the smaller size requirements your business can save a lot of money. In the case of a Small Parcel, if a company sends a 1.5kg parcel 2nd class on a standard business account, it will cost them £2.40 more per parcel when they exceed the Small Parcel maximum dimensions.
We understand that customers will need to digest these changes and possibly review some of the postal packaging they currently use. To make the transition as easy as possible we have created an online guide aimed at saving customers both time and money. The comprehensive guide is in table format and clearly illustrates what is classed as a small, medium and large size parcel, with extra information on Kite Packaging ranges which are ideal for each size bracket.
Many of our postal boxes and mailing bags fit the size requirements for Large Letter and Small Parcel, making them ideal for customers wanting to save on postage costs.