Safe and Secure Pallet Loads
Kite Tackles A Common Conundrum....
As an online trader, retail business or individual, choosing the right packaging products to ensure that your products reach their destination intact can be rather confusing, especially with so many options available online.
Many of our customers have worked out the best packaging products for securing their products for delivery over a number of years in business, but what if you are a new business or start up with very little room for error in the budget?
At Kite Packaging we have decided to tackle this issue head on and provide a comprehensive guide to packaging your products for a safe delivery. This blog post will look at the options available to customers wanting to secure and protect pallet loads, including edge protection, shrink film and pallet wrap.
Vital For Businesses Where Manual Handling Is Inevitable.....
Many of our customers transport their products on pallets and require a heavy-duty solution to securing their items and transporting them safely.
Securing pallets for delivery is vitally important on many levels. Firstly, if you are sending items to customers on pallets which then arrive damaged, it is then your reputation at risk and your brand name which could become damaged as a result. It is also vitally important that your palletised products are safe and secure for warehouse safety purposes, and to reduce the risk of items falling out and injuring those on the warehouse floor.
Safe and Secure The Kite Way!!
The most widely used method of securing items for transit lies with securely wrapping goods, traditionally done using a range of pallet wrapping materials. These can be applied by hand or using a dispenser. Here at Kite we offer rolls of pallet wrap which can be applied by hand, as well as providing large rolls of machine-applied stretch film to increase business efficiency and speed of application. Our films are available in several thicknesses, and our handy dedicated product guide is the best place for advice on selecting the right product. For most applications a 17 micron film should be suitable, although for heavier or uneven loads with sharp edges you may want to use a thicker 20 micron stretch film instead.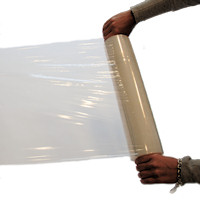 When using hand films our stretch wrap hand dispensers are designed to make the operation simpler and faster. Alternatively, why not try our extended core rolls, which have a protracted cardboard core that can be used as a handle?
For companies sending high value goods our range of films is also available in black, often used for security purposes as they prevent the wrapped items from being identified. Similarly we also supply blue pallet wrap which is used by food distributors, the blue tint is universally used to identify foodstuffs.
As it can be used to wrap a pallet in seconds (saving time and labour costs), machine stretch wrap is the most efficient way to wrap and protect palletised goods. However, as this is traditionally sold in full pallet quantities it can be too much for smaller companies to store, with one pallet representing several months' stock.
In recent months we have found that more and more small to medium sized businesses are interested in this product but are against large upfront expenditure and are short on storage space, so in response to this we recently started offering it in single roll packs. For larger businesses with continuous high-volume packing operations we also offer both standard and super power pre machine films by the pallet load.
Shrink to fit
An alternative to stretch wrap is heat shrink film, used in conjunction with pallet shrink wrapping guns to apply a tougher, more rigid pallet securing solution. Heat shrink film is used in a variety of packaging situations from wrapping frozen pizzas to bundling hardware, although in this case it is heavy duty pallet shrink covers that we are interested in. These covers, which are like open-ended bags, are shrunk to fit snugly around a pallet of goods using a heat gun. A strong, well-applied pallet cover is ideal for securing and stabilising irregular loads on a pallet.
Give Your Pallet 'The Edge'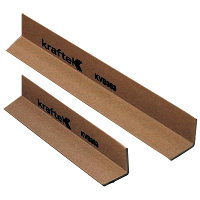 To stabilise pallets of goods and protect the edges from impact damage, edge protection is sometimes required. Solid cardboard edge protection strips are most commonly used to reinforce cartons and cases and aid protection of loads on pallets. They are a low-cost way to protect the edges of goods for transit and storage but they can also be used to reinforce and brace pallets and the corners of corrugated boxes. Edge protectors are both recyclable and can be re-used, which is why we are a big fan of them here at Kite!
In addition to our main pallet wrapping solutions, you may need to look at other ways to secure loads. Cardboard sheets can be used as layer pads, separating multiple layers of product on a pallet and offering extra stability to tall stacked loads. Another way to stabilise palletised goods is to use anti-slip pallet sheets, made from a strong moisture-resistant paper that keeps goods from slipping off a pallet even when lifted at an angle.
We hope that this clears up some of the confusion and that our guide has provided you with a little further insight into this area of packaging!