Secret World Wildlife Rescue thanks Kite Packaging for its generous donation of cardboard boxes
For us humans, Autumn means falling leaves, cosy jumpers, and putting the heating on as it gets cold. For most wildlife, it means the beginning of the most challenging part of the year when they must do what they can to protect themselves from the cold weather.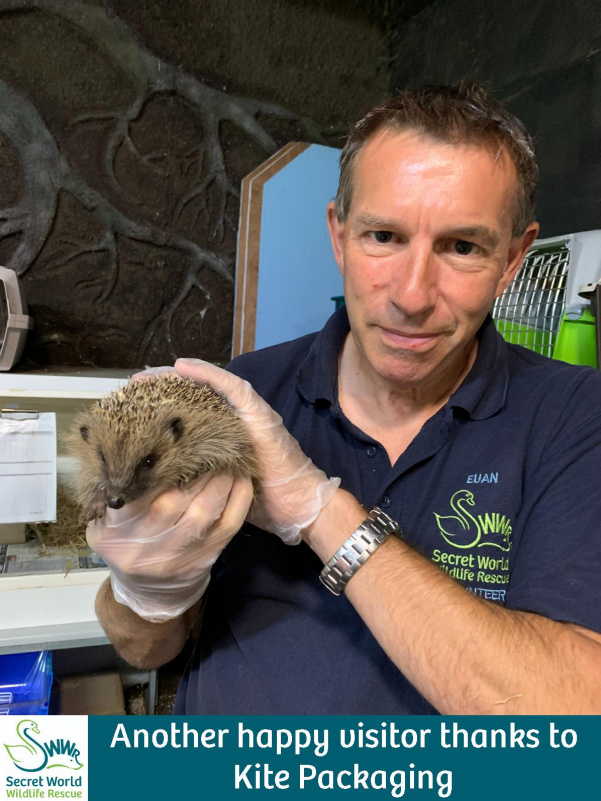 Hedgehogs are particularly vulnerable at this time of year. They have their second litter of the year at this time, and it's a race against the clock to get ready to hibernate. Young hoglets must gain weight quickly and mothers have to keep them
fed while keeping their own strength up. Underweight hedgehogs are not able to hibernate successfully which is why adults are often seen out during the day in Autumn. They are desperate for food and will risk foraging in daylight. Most of the hedgehogs admitted to Secret World Wildlife Rescue are admitted for the reason, or sometimes because their nests have been disturbed. Once they've been checked and treated for any pests and injuries, they move on to our 'Hogwarts'
hedgehog hospital where they can sleep and gain weight in a quiet, dark environment.

Hedgehogs love a cosy place to make a nest, and thanks to this very generous donation of cardboard boxes from Kite Packaging, we now have the perfect place for them. We use the standard CDW120912 box which is sealed at one end. The boxes are filled firstly with a newspaper on the bottom and then with hay to provide warm bedding material. This is just what the hedgehogs need to feel safe and secure. Each of the boxes is then placed in a secure 'pod' with food and water – cat biscuits and cat food are favourites. The pods are cleaned out every day and having the Kite Packaging box makes this process a lot easier and quicker – the box, complete with hedgehog, can be removed and the pod quickly cleaned before 'reassembly'.

Once they're up to a suitable weight, generally over 550g, they can be released back into the wild if the weather is fair. They will start hibernating once the temperature drops below zero on seven consecutive days, occasionally waking up again if it
warms up so they can feed.

A huge thanks to Kite Packaging for their kind donation which will help our hedgehogs 'fly' through their rehabilitation and allow us to give them the best possible second chance at life. We probably care for about 700 hedgehogs every year, so we get through a lot of boxes, and Secret World Wildlife Rescue relies entirely on the generosity of our supporters and receives no government funding.