Shipping Bottles By Air And Sea – The Packaging Doctor
The Surgery Is Now Open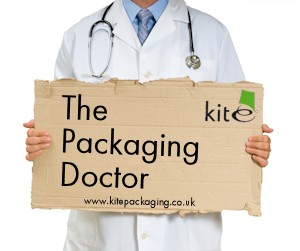 Dear The Packaging Doctor,
I work on behalf of the Royal Marines, and have had a charity donation of beer (900 boxes) to send out to the troops for Christmas. Many of these men and women haven't seen their families for months, and will be missing spending time with them at Christmas so this is an important shipment to show support and let them enjoy the celebrations in spite of the challenging job they have to do. I need to send these out as efficiently as possible, using the best protection to ensure the bottles don't get broken in transit which will be by air and sea.
Do you have something that meets the above criteria?
Sincerely, Gary
Hi Gary,
For a shipment this large, 900 boxes of beer would make anyone's Christmas merry, I would suggest the Mini Air system. You'll need to package them using two types of cushions – a filler cushion for placing at the corners of each box so that the bottles don't crash in to the sides of the box, and a quilted cushion for wrapping around the bottles so that they don't hit each other.
Air cushions offer great protection, and amazing air retention capabilities so that even during long journeys like the ones you describe the cushions still provide adequate protection from shock and impact damage. The machine itself produces 7 metres of cushions per minute which speeds up the packing process and requires very little labour.
Here's to our marines and hoping they have a very Merry Christmas.
Best Wishes, The Packaging Doctor

Note: All the packaging problems our doctor receives are real queries from customers or non-customers.
If you have a packaging problem that needs diagnosing
get in touch on Twitter @kitepackaging
or email packagingdoctor@kitepackaging.co.uk