Shipping Computer Parts Abroad – The Packaging Doctor
Some customers aren't aware that we supply a huge range of packaging designed especially for the electronics industry, all with its own specialist elements to prevent damage. Usually when we talk about packaging in terms of reducing damage we are referring to knocks, scrapes and impact damage however when it comes to electronics the damage we are most concerned about is rust and faults caused by static charges.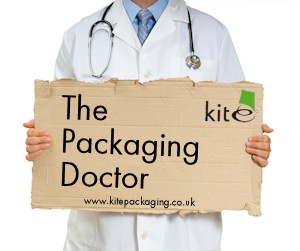 Computer parts are notoriously expensive and therefore any damage of this kind provides huge cost implications to any business. The trend for building your own PC's and selling computer equipment is slowly growing as more add-ons are available and home computing becomes more advanced, so it's a great market to be in at the moment.
Today's patient is sending out highly expensive parts abroad, which is always tricky. See how I helped him out with his tricky problem and remember to get in touch with me if you have any of your own packaging questions!
Dear Doctor,
I am the CEO of a large computer company, who supply servers to various businesses. As you may know servers are very valuable with the prices ranging from £600 to upwards of £7,000. We have recently secured a large contract in Switzerland and will be sending 100 units to the country; we need something sturdy and secure for the journey, as well as some extra protection such as bubble wrap.
Can you suggest something? The servers are around 70 cm x 80 cm and around 6cm in depth.
Thanks,
Richard
Hi Richard,
Sounds like a pretty substantial order you've got there – and although I'm no computer whizz I understand these items are high in value and damage would be detrimental to this new contract. But luckily that is not going to happen now you have me on your side!
Because your product is flat and thin I would first suggest using our picture frame boxes to package your servers. They are manufactured with strong double wall cardboard and have a Kraft paper outer for burst and tear resistance, as well as giving a smooth finish for presentation. The great thing about these boxes is that they're telescopic, the base and lid design can slide over each other to accommodate any size, I would recommend the 800mm (length) x 90mm (width/depth) x 600mm box for your servers, however the height can be adjusted to accommodate for products as long as 1000mm.
Of course using this size box will mean that your product has some extra room, rather than leaving it in there to shake about during transit the next step is to add some protective packaging around it. You mentioned bubble wrap which is an obvious choice as it is one of the most popular methods for protecting items, as yours is an electrical product I would suggest using anti-static bubble wrap. This bubble wrap is coated in a substance that protects items from static charges that can discharge electronic components.
Best Wishes,
The Packaging Doctor
Note: All the packaging problems our doctor receives are real queries from customers or non-customers.
If you have a packaging problem that needs diagnosing get in touch on Twitter @kitepackaging or email packagingdoctor@kitepackaging.co.uk