Should Cigarettes Use Plain Packaging?
28th November 2013 Update:
We've been keeping a close eye on this story, with the most recent development hitting headlines today. Since this post, David Cameron has been described as doing a 'U-Turn' on the subject of plain cigarette packaging - which he previously backed out of due to insufficient evidence that plain packs discourage smoking. It will be a year this weekend since Australia introduced its plain packaging legislation, perhaps the timing is right for the UK to follow suit? The new review will be reported in March next year and if passed will see plain cigarette packaging on shelves by 2015 and will focus on the results in Australia, which show that since plain packaging was introduced 81% of smokers were more likely to consider kicking the habit.
The response from the packaging industry has so far been quiet, however there is no is doubt that plain packaging will drive costs down for tobacco companies. The question is will innovative cigarette boxes such as sliding packs also be removed from the market due to their gimmick attraction? Watch this space.
---
Should Cigarettes Use Plain Packaging To Discourage Smoking? Kite Investigates....
Over the last few months there has been a major packaging debate on the lips of most industry professionals: should cigarette packets make use of plain packaging to discourage smoking?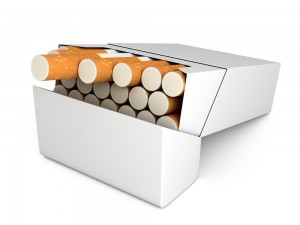 The tobacco industry is extremely powerful and is a strong pillar of most governments' tax revenue. Certain countries' budgets are critically dependent on tobacco taxes, so many governments across the globe are charged with the task of overseeing the healthy development of the industry whilst paradoxically limiting its growth due to health-related repercussions. This makes the plain packaging debate an extremely hot topic indeed, and one that affects our industry too!
The Packaging Debate Continues.....
In August this debate gathered more momentum as Australia's highest court endorsed cigarette plain-packaging laws that will force tobacco companies to remove branding from their products. Tobacco companies including British American Tobacco, Britain's Imperial Tobacco, Philip Morris and Japan Tobacco challenged the laws in Australia's high court, but attempts failed.
The decision means that starting in December 2012, tobacco companies will no longer be able to display their distinctive brand designs and logos on cigarette packs. The packets will instead come in a uniform shade of green and feature health warnings and images such as cancer-riddled mouths.
The Government has admitted that it has no proof that plain cigarette packs will reduce smoking rates, and countries such as The Netherlands, Denmark, Sweden, France and the US Congress have all recently come out in opposition to it.
A Marketing Canvas or a Plain Container?
Tobacco companies are worried the law will set a global precedent that could slash billions of dollars from the value of their brands and that the new ruling violates intellectual property rights and devalues their trademarks.
This is a clear case of packaging being more than just a container; it also serves as a canvas for the brand and a powerful marketing tool. At Kite we understand the importance of branding, and through items such as our custom printed tape offer customers an easy way to add branding to their products.
We support any decision that is to improve the health of others and especially one that will reduce incidence rates of lung cancer and other respiratory diseases. However, as packaging experts we recognise the importance of well-designed, shelf-ready packaging to a brand. It will be interesting to see if this decision is rolled out eventually in the UK and this is a question being asked industry wide.