As a small business, it can often be difficult to compete with the incentives and sales offered by larger establishments. Their offers of free postage and returns can often not truly be matched due to a fundamental difference in balance sheets, begging the question: should I offer 'free' postage by increasing the unit price or quoting an additional cost of postage and packaging?
Trying to meet the expectations of customers used to ordering from large online businesses can sometimes backfire, although some people can be so adverse to paying 'hidden' fees that a delivery price can deter them from pressing the final 'confirm order' button. The pros and cons can seem innumerable, hence why Kite Packaging, the largest online packaging distributor in the UK, is weighing in with their expert industry knowledge.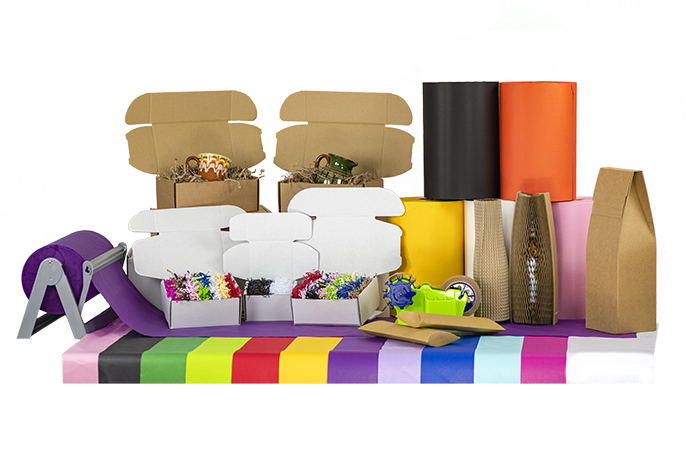 The psychological saving
The word "free" is a marketing tool. It is ingrained in us from an early age that anything 'free' should be accepted with both hands; it costs us nothing, implying that we are only to gain. Moreover, good postage and packaging is typically designed to be unseen. The goods magically appear on your doorstep; the customer is not privy to the journey the order has undertaken, nor the amount of labour involved in its transportation, or indeed, the careful manufacture of protective materials and packaging of the order. Therefore, there is little tangible reward for paying for these services. It can, although illogically, seem like a waste of their money and an irritating additional expense that is wholly separate from their purchase.
By this reasoning, it seems indisputable that postage should appear to be 'free' and factored into the product price.
Keeping price competitive
However, one of the potential pitfalls of this approach is making your goods appear comparatively expensive in the market. Often, customers will compare unit prices when making their selection of what to buy, meaning that it can work to the seller's disadvantage if their product is priced higher than a competitor's to factor in P&P.
This could be a significant issue if you are selling heavy or bulky items that would require expensive P&P. In this instance, it would make most sense to clearly state how much these services cost rather than to greatly ramp up the product price while providing no explanation as to where the customer's money is going. A significant price difference such as this would be markedly apparent in product comparisons, potentially putting your product immediately out of the running.
On the other hand, smaller items with relatively cheap P&P costs will not be heavily affected by this disadvantage of 'free' postage as the product price increase will be low. Similarly, if you sell unique or handmade products that can't be directly compared to others on the market, then this issue of competitive pricing is generally irrelevant.
Marketplace sites
A further point in favour of offering free postage and packaging is the filters now present on marketplace sites such as Ebay and Etsy that allow customers to only view items with free P&P. It is difficult to know exactly how many people use these filters for different sectors, but it has been reported that 9 out of 10 customers have said that free shipping is the top most incentive to shop online more. These filters don't just grant those offering free P&P an advantage, but completely wipe out any competition still charging for delivery.
Incentivise larger orders
However, there are dividends to be gained by withholding free postage and packaging to incentivise larger orders. For example, this discount may be offered once a basket reaches a certain threshold of being over £20, perhaps. With 58% of consumers adding more items to a cart to qualify for this discount, it appears to be a proven middle ground. The obvious drawback is that the more a customer orders, the more postage and packaging costs will be incurred. Therefore, a business will have to carefully weigh up their own overheads to assess whether this will be a viable option, though it has also been discovered that orders with free shipping average around 30% higher in value.
Grant yourself flexibility
One of the best and simplest things you can do is to try to provide yourself with as much leeway as possible to keep profits intact while securing numerable sales. Minimising how much you spend on P&P allows you a greater choice on how to account for it in your product pricing. Kite Packaging strive to offer the most competitive wholesale prices on the market to empower businesses of all sizes to succeed and grow. What's more, all of our product tables will display the corresponding Royal Mail PiP guidelines where relevant. This means that you can accurately calculate your postage costs before ordering and make sure that your are charging the correct amount to cover your costs while understanding how much flexibility you have regarding free shipping offers.
It appears indisputable that free P&P can act as a strong incentive for customers to complete purchases with 61% "somewhat likely" to cancel their purchase if free shipping is not offered. It can also be a great way to encourage larger orders with a survey revealing that online customers find free shipping twice as compelling as "percent off" offers. Whether you decide to charge for your postage and packaging or not, it can certainly be worth considering offering free shipping occasionally instead of other sales to entice orders. This is most easily achieved when your outgoing costs are as low as possible; this is where Kite steps in. Browse our leading ecommerce shop or give one of our product experts a call to find the perfect solutions to deliver your goods to your customers reliably and economically.