Tape To Withstand High Temperatures – The Packaging Doctor
The Surgery Is Now Open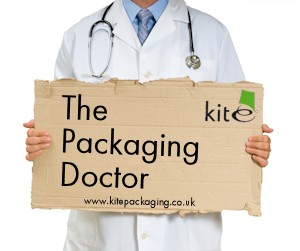 Dear Packaging Doctor,
I work for an engineering company, and have been tasked with looking for a low tack tape which will hold several metal poles in place as they go through a high temperature machine for testing. The machine can reach temperatures of 180 degrees Fahrenheit and it is important that the poles will hold together throughout the test, yet the sealant can be easily removed and leaves no residue on the product.
Do you have anything suitable?
Kind Regards, Melissa
Dear Melissa,
For situations such as this people often underestimate the power of masking tape, reminiscent of school days and craft projects masking tape actually has a number of brilliant uses. Supplied on 50 metre rolls, masking tape is resistant to solvents, water and heat – withstanding temperatures up to 200 degrees Fahrenheit.
Although it has superior advantages as an adhesive, its removal is much more impressive as it can be cleanly and easily removed from most surfaces, including metal, without leaving a residue. As well as this it can be easily torn off, ideal for a fast-paced environment such as the engineering industry.
Take Care, The Packaging Doctor

Note: All the packaging problems our doctor receives are real queries from customers or non-customers.
If you have a packaging problem that needs diagnosing
get in touch on Twitter @kitepackaging
or email packagingdoctor@kitepackaging.co.uk