The Advent Calendar that gives to those in need!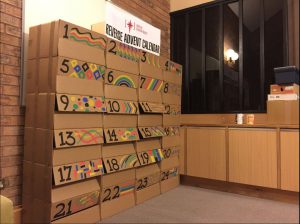 We've all heard of the ever-popular Advent Calendar but Great Lumley Methodist Church has gone one step further and made a reverse one in order to give to those in need. The heart-warming gesture has seen our Kite boxes transformed into a kaleidoscopic calendar in which people can put things inside of each day rather than take something out like a traditional one.
The reason behind this kind, out-the-box concept is because the church is collecting tins and packets of food to send to their local food bank to help those who are struggling to get by in the lead up to Christmas. At a time where lots of people in society are receiving and opening presents, those who are less fortunate can often go amiss, making this reverse calendar a fantastic idea that really captures the true meaning of Christmas.
So by combining the festivities with charitable good will, our Kite boxes have been used by the members of Great Lumley Methodist Church for a wonderful cause – inspiring us all to give a little something back this Christmas.