The Complete Guide to Paper Tape
Polypropylene tape is often the sticking point (forgive the pun) for businesses wanting plastic-free packaging. After all, it's cheap, effective and familiar. However, kraft paper tape is an excellent alternative now available that is fully recyclable, removing any uncertainty around putting out an entire package, complete with tape, for kerbside collection. Plastic tape is non-recyclable and whilst very small portions are permitted to pass through a recycling plant, larger quantities can cause considerable sorting difficulties, slowing the operation and making it more expensive for local councils.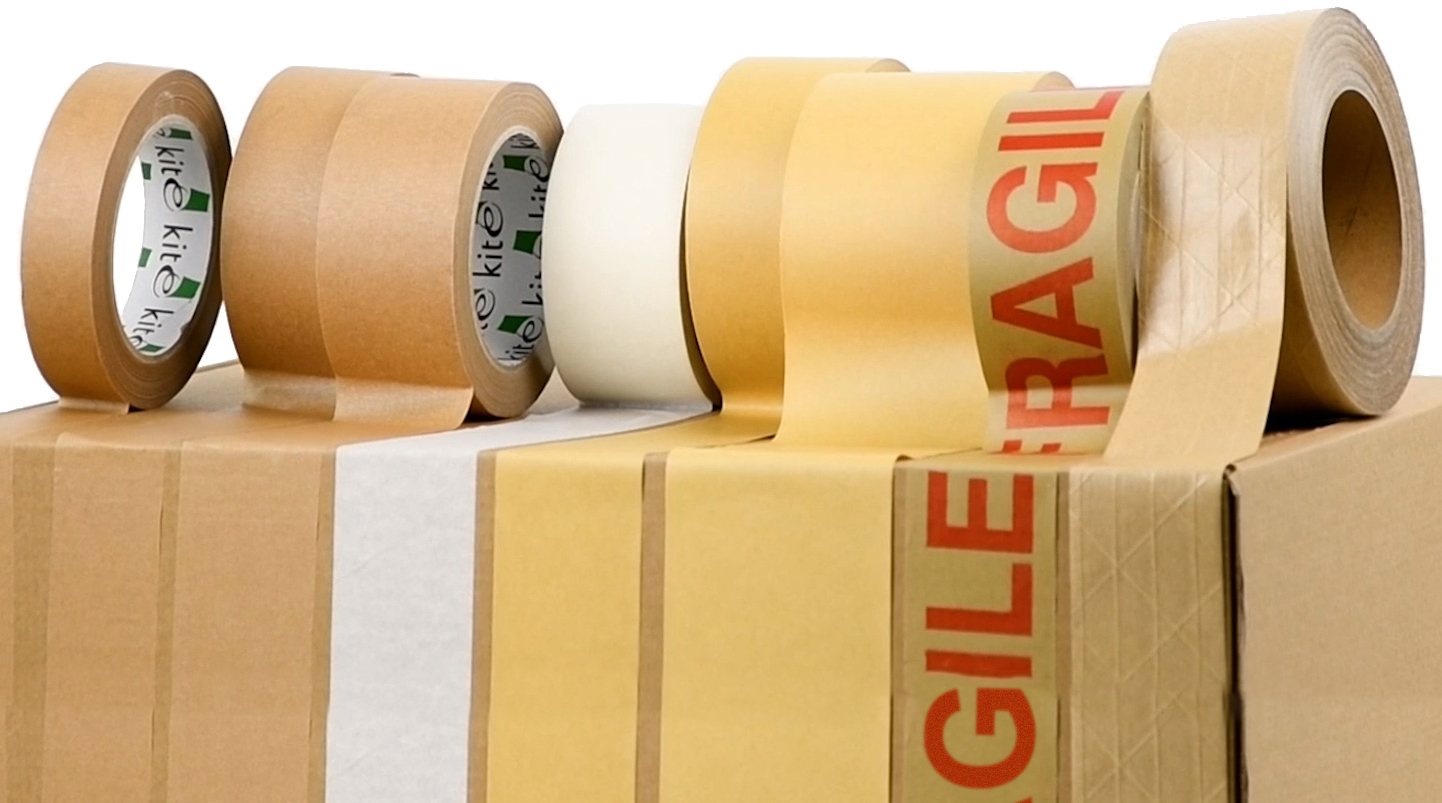 Furthermore, the manufacture of the kraft paper is more eco-friendly than the plastic alternative, using sustainable processes and producing 'waste' material that can be reused. The recognisable kraft hue is created by omitting the excessive bleaching that most papers are subjected to, further reducing the amount of energy exerted.

At Kite, we offer eight varieties of standard tapes in addition to a custom printed paper tape option. This guide is specifically designed to help you decipher which type is best for your business.

Standard duty solvent (25mm x 50m, 38mm x 50m, 48mm x 50m)
Our most economical standard duty solvent tape is a perfect all-rounder for many applications. 'Solvent' refers to the type of adhesive the tape uses and this variety is unique in its ability to stick to its own paper carrier, enabling overlapping when packaging. These tapes are also self-adhesive which means that they are ready for immediate use by already being sticky when peeled, in contrast to machine applied tapes which require activation. Furthermore, solvents perform better in extreme temperatures when compared to hotmelts, offering a long-lasting adhesion throughout a postal journey. That said, the tape is not so strong that it cannot be easily torn by hand for quick application.

By being able to stick to itself, this kraft tape has become a staple in craft and framing industries. Picture framers select this version to tape the backs of frames as part of the bordering process; as a result, it is often referred to as 'framing tape' or 'framers tape'. It is also an effective bordering tool for painting projects by providing a clean edge that is not excessively difficult to remove after use.

Most recently, Kite has expanded this range to include a white variety of the most popular size. Intended for use with our extensive selection of white postal boxes or white 0201 standard cartons, this tape completes a crisp white package with elegance and consistency.

Standard duty hotmelt (50mm x 50m, 75mm x 50m)
A standard duty alternative to the solvent options, hotmelt tapes provide a similar degree of effective adhesion. However, it is worth noting that these products do not stick to themselves and are not as suited to use in extreme temperatures.

Standard reinforced hotmelt (48mm x 50m)
If you require ultra-reliable sealing for items where security is of the highest importance, then Kite's reinforced hotmelt kraft tape is the ultimate dependable solution. Its structure is reinforced with cross weave glass filaments that make it extremely strong and difficult to tear. Similar to the standard duty solvent tape, this version is also self-adhesive and enjoys instant adhesion. For packaging very heavy items that might tear through regular tapes or items of high value, this tamper-evident tape is a professional packing option.

FRAGILE printed paper tape (50mm x 50m)
FRAGILE printed paper tape is fairly self-explanatory, exhibiting all the qualities of our polypropylene and PVC warning printed tapes but on an eco-friendly paper carrier. This type of tape proves very useful when packaging delicate items that ought to be handled with greater caution, alerting the courier of the fragility of the contents. The solvent adhesive ensures long-lasting sticking power to accompany the clear message and help the parcel to be delivered safely.

Custom printed hotmelt paper tape (36mm x 50m, 48mm x 50m, 72mm x 50m)
For optimal brand recognition and professionalism, opt for our custom tape that can be designed to your specifications on the interface available directly on our website. Through omitting any third-parties, you don't have to wait for a separate entity to approve artwork before placing your order, making Kite's version one of the quickest on the market to receive after ordering. The wealth of untapped marketing potential (link to blog on this subject) available through embracing custom packaging makes this tape an incredibly low-cost method of enhancing a brand image. As the first thing the customer sees upon receiving their order, feels of excitement and anticipation are instantly associated with your business, amplifying the emotions subsequently experienced upon unwrapping their goods.

Gummed paper tape (50mm x 200m, 70mm x 200m, 50mm x 100m, 70mm x 100m)
Opt for gummed paper tape if your business demands optimal security partnered with a consistent eco-friendly focus. The natural adhesive is made from starch amongst other organic materials while the carrier is 100% paper, for a fully renewable packaging solution. Whether you choose the standard version or the reinforced gum tape, these versions provide an incredible strong seal that is virtually impossible to tear off. As it is water activated, as opposed to self-adhesive, it must be used with a gummed paper tape dispenser. These tools moisten, dispense and cut the tape in set lengths. At Kite, we supply three different models to be scaled appropriately to suit the amount of orders your operation despatch: select a simple pull and tear design or enjoy the rapid automation of our electronic dispenser.

Packaging tape is an unavoidable purchase for ecommerce businesses. Therefore, it is logical to make it as meaningful a purchase as possible. Attention to detail is valued by customers and paper tape speaks volumes about the company's moral standpoint on the environment, earmarking you as a socially responsible business culturally aware of global issues. To access the contents of a package, the tape must be cut or torn off; the customer will take note and reward sustainability.

View the product pages here to place your order and lead the evolution away from plastic packaging.