The Ephemeral Tape and Cardboard City
Here at Kite, we like to regularly research industry news and interesting, quirky packaging-related wonders, so when we stumble across packaging related news, developments and handy tips or are sent something interesting in by you, we like to share them and give them the recognition they deserve.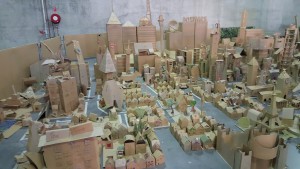 The latest discovery which includes a whole lot of cardboard and tape is Olivier Grossetete's structure 'The Ephemeral City' sent in by a regular Kite Blog reader. Sydney's new creative playground, the Cutaway at Barangaroo Reserve, was home to one of the largest community participation events presented in Sydney Festival's 40-year history.
Groups gathered together in a series of Workshop and Construction sessions, participants could get involved in for as long or as little as they liked and return again and again to watch and help the city grow.
Boxes and tape were used by people of all ages to construct a sky-high temporary city before its exciting demolition took place on Australia Day, crowds gathered to watch as 3 weeks' worth of the box and tape building was demolished.
Do you think you have what it takes to build a city like this? Or something on a smaller scale? If so, look at our range of Cardboard Boxes and Tape and get started on your project.
To watch this amazing construction of boxes and tape visit https://www.sydneyfestival.org.au/.