The Finnish Baby Box
Here at Kite we are always interested in industry news and packaging designs that are in the headlines. The latest one to attract our attention is the 'baby box', originally founded in Finland, Finnish mothers for the last 78 years have been given a box by the Finnish state, including necessities to help care for their new-borns, and it is said that Finland has the lowest mortality rate in the world, in part thanks to the maternity kit.
Three dads living in Finland wanted to give families around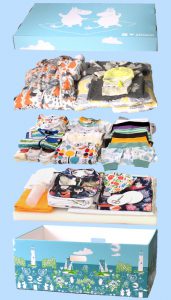 the world the opportunity to enjoy the same box that every Finnish parent gets, so they decided to make the 'Finnish Baby Box' available to families all around the world. Since this trend has emerged out of Finland, we have seen the 'Baby Box' enter Scottish soil, where a scheme has been set up to tackle deprivation by providing families with a box containing items such as bedding and clothing.
Duncan of Jordanstone College of Art and Design have launched a competition to students across Scotland, where they can design the artwork on the 'Baby Box' which will then be put into production in 2017.
It's great to see such a simple yet influential design bringing about such joy to parents and babies around the world and even better the new-born babies in Finland even sleep inside the boxes, making it an overall comfortable, practical piece of packaging.
Credit: Finish Baby Box and BBC News