The Kite Essential Packaging Guide Has Landed
The New Kite Packaging Guide Has Landed!
The Kite Essential Packaging Guide is here, we are pleased to introduce our newest version of Kites 2016 product guide and just like us offers helpful advice about packaging products – and which ones are right for your business.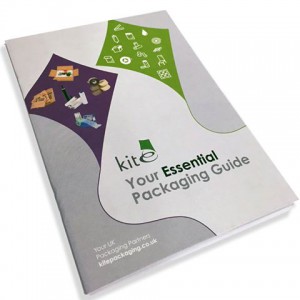 What's Inside?
Here at Kite we like to do things a little bit differently. Our employee-owned philosophy means that each team member has the opportunity to share ideas, and make Kite successful in their own right.
This guide has been developed to ensure that you, our customers receive the information you need: it is not your typical packaging guide. We get straight to the point with useful facts and figures about our products, all aimed to help you find the perfect solution for your packaging requirements.
Helping You To Choose The Right Products
The design of the guide has been refreshed and updated and has evolved since the last one, however, one thing that has not changed is the way we want you to use this guide. We want the guide to be a purchasing tool for customers, something to refer to beyond the administrative day-to-day. That's why we have included 'overview' pages for you, which give you an idea of the various products you could use in your business.
Our double-page infographics give you advice about which packaging is right for you – are you most concerned about cost-saving? Perhaps you want to save space in the warehouse? Or need it to suit heavy-duty applications? You can now see at a glance which products fulfil your perfect criteria.
Green Businesses
We are a green business, and operate our company on several environmental policies which include reducing waste on-site, maximising the use of recycled and recyclable materials, as well as using suppliers with green credentials. We understand that it is sometimes difficult to make green strategic decisions, especially when the information isn't clear.
That's why we've included our Enviro logo throughout the catalogue, next to all of our most environmentally-friendly products. Of course, all our products comply with ISO 14001:2004 regulations, but these products are the greenest of them all!
New Products
The guide has been a great opportunity to showcase our new products, which include our range of Airshock Mailing Pouches, New additions to our Airshock range, High Volume Packaging Systems, Pallet Wrap and Pallet Wrap Hand Dispenser System and Machines.
These new ranges have been part of our aim to bring a range of new solutions to help fit all customer requirements, which help to reduce cost, improve efficiency and reduce damage rates.
Our Auto Airshock Mailers, incorporating our patented pre-inserted valves and the, unique to Kite, 5x5 Hand Dispenser have been a huge launch for us. The new range demonstrates Kite as an innovative packaging supplier who focuses on research and development to find you the best solutions.
Additionally, our new range of High Volume Packaging Systems come in both manual and automated versions to suit high and low volume users, with all using environmentally friendly paper. We have also added our Strapping range in to the product guide to help you find the strapping most suited to your requirements.
Want More?
All the products in our catalogue feature on the website, and include more detailed descriptions, full pricing tables and demonstration videos to show you just how simple they are to use.
Take a look through the online guide, and if you want to order visit the website pages using the quick links at the bottom of each page in the guide, or call the team on 024 76420065.
Enjoy!