How To Package Vape Sticks – The Packaging Doctor
It's been a great day for The Packaging Doctor today, we have done our bit for Sports Relief and have had a really busy day in the Surgery.
Today in the surgery we meet a supplier who has enquired about an alternative solution for sending out their Vape Sticks.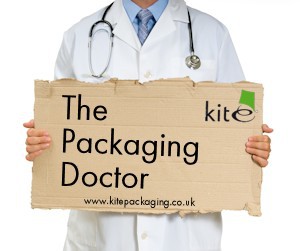 Dear Doctor,
We send out Vape Sticks and currently wrap them in bubble wrap, with corrugated paper and then place them into a mailing bag. However, we are looking for a different alternative to save storage space and use less.
I hope you can help.
Zainab
Hi Zainab
Thanks for your question in the surgery today. It's great giving support and advice products that we do not often advise on in the surgery, but in true Kite, style we love all new queries and can give advice on all packaging queries.
Bubble wrap, corrugated paper and mailing bags are all great products in their own right, however as all products in the packaging world, some solutions are more suited to products than other.
Let me suggest to you our book wrap mailers. This is the perfect solution when looking for wrap-around protection that can protect products. They feature a peel and seal strip giving them added security and sizes 1 to 4 feature a 'Handle With care' print to ensure extra care when delivering.
They will protect your Vape Stick without the need of purchasing added protection, therefore saving you money and storage space. All of our book wrap mailers are Royal Mail PiP compliant so you will have a clear idea of the postage costs.
Hope that helps,
The Packaging Doctor