Get out of a 'Sticky Situation' with our sealing master class
You've chosen a suitable box for your product, but what should you use to seal it?
Tape may be the obvious answer, but it is not the only option. In fact, there is a huge range of solutions available, ranging from standard and specialist tapes to strapping and carton staplers - all of which have their own uses and benefits. Here is a simple guide to selecting the best Sealing & Taping products option for your packing requirements.
When it comes to standard packaging tape, Kite have every base covered, whether you are looking for an economy all-purpose tape, top quality branded tape or low noise tape, we should have what you are looking for in stock.
Our general tapes can be separated into the following categories: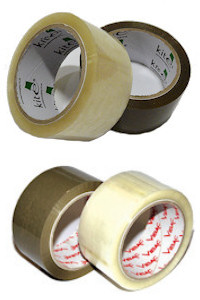 Kite Essentials Tape: our low cost own-branded tape is a great value option that does not compromise on quality. It is suitable for everyday use and available in clear (ideal for sealing white boxes) or brown, both with an acrylic adhesive that is best used at room temperature.
Vibac Tape: When only a top quality brand will do, our Vibac packaging tape is available in both brown and clear varieties. We also offer Vibac branded extra-wide 75mm tape, for when a wider seal is required, and a double-length option, reducing roll change frequency.
Low Noise Tape: Standard tape can be noisy when released from the roll, especially in an environment where many people are using it at once. Our Low Noise Tape offers a much quieter solution, ideal for those who can't stand the noise traditional tapes make!
Envirotape: If you are a heavy user of tape, want the best value for money or environmental concerns are a priority, our envirotape is the best option for you. Due to its smaller core, you get over twice as much tape on the roll than standard tape. This means there is less waste, less downtime due to roll changes and less valuable space is used up to store it. It is also our most cost-effective option per metre of tape.
Our range of tape does not end there - we also sell Gummed Paper Tape that is water activated. Like traditional stamps and envelopes, the adhesive is activated when moistened - although rather than licking it we advise using one of our Gummed Paper Tape Dispensers to do the hard work for you!
Such dispensers are designed to moisten, dispense and cut the tape as required. We have both manual versions, where the tape is pulled through the machine by hand, and electronic versions that measure out pre-set lengths of tape and cut them perfectly.
Gummed Tape is not only a more environmentally friendly means of taping (100% recyclable and biodegradable), it can be used to form a strong seal than penetrates the fibres of boxes. This form of tape is also tamper evident, and due to its colour and texture blends in well with cardboard boxes and parcels. For when you require additional strength, we offer a Fibre Reinforced Tape which is made with extra strong 3-way glass fibre yarns making it one of the strongest tapes on the market, unaffected by temperature extremes.
Beyond Tape
Occasionally you may require a stronger means of sealing, and for some businesses Strapping is the best solution. Ideal for larger packages, and for heavier duty boxes such as our range of Pallet and Export Boxes, strapping is available in 2 varieties: polypropylene for general use, and polyester for heavy duty applications. All of our strapping has a high tensile strength, providing a strong seal that can withstand much higher tension than tape.
Not only do we sell rolls of strapping on its own, we also provide complete strapping kits and tools to make light work of the job in hand. For businesses which require a high volume output, we offer floor-standing automatic strapping machines, which are extremely quick to use, great for increasing efficiency!
Another heavy duty means of sealing cartons is with staples, and for this we have a range of Carton Top Staplers. These have been purpose-designed to quickly seal boxes in a warehouse or post room environment, using wide crown staples to close the flaps securely. Not only do staples provide a strong seal, they are also quicker to apply than tape so are ideal for busy packing environments.
Another often-overlooked option is glue - not the standard glue you would buy from a stationery store, but our strong hot-melt adhesives that are applied with a Glue Gun. The best type of adhesive for sealing boxes is our Fast Set glue, which bonds well to cardboard and as it is quick-drying so boxes can be assembled speedily.
Whichever option you choose, we have a great range of sealing products to choose from. If you are unsure whether you are using the most suitable method of sealing your boxes, speak to one of our advisors who will explain your options and help you to find the best solution.