Top Five Ways Kite Is Growing
Latest News and Future Plans
Hi All,
You may have noticed we've been popping up everywhere recently with some exciting updates from the business. This last quarter has been a busy time for us and is a good indication of the rapid growth we've experience over the past couple of years. As an employee owned company, we work hard on our customer service to ensure each and every account is fully catered to and continually invest back in to the business to maintain growth and extend our service offering.
Today's blog post will give you a round-up of our most recent achievements, and remember if you are a journalist or simply want to keep up to date with all our recent news you can visit our new Press Section which is updated regularly. You can also join us on Twitter - @kitepackaging where we will be joining in with the trending topics in packaging and giving our followers all the news and exclusive offers first.
Packaging Innovations Show 2013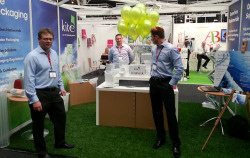 The easyFairs Packaging Innovations Show was a huge success this year, a great indication of the increasing awareness about this exhibition. Packaging suppliers and designers across the UK came to showcase their latest innovations and the Business Design Centre in London was crammed full of business leaders looking for new solutions to enhance the efficiency of their supply chain. Kite attended the event with its packaging technologist team, who presented its latest innovation - the Kite AirShock - to potential clients. The Kite AirShock gained an amazing amount of interest at the show, with many customers taking away custom made samples to try back at the office.
The product's success was largely down to its versatility, as the armoured air pouch can be used to protect small items such as china plates as well as large items including sinks and baths for the homewares industry. The Kite team has conducted a series of tests on larger products and the pouch has managed to withstand colossal amounts of weight. Thanks to the interest gained at the Packaging Innovations Show, we are now discussing featuring a standard stock range of AirShock pouches on the website. Stay tuned for more details on that in the new year.
Award Wins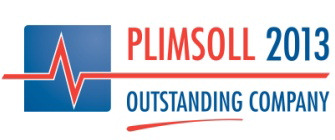 September was a brilliant month for us in terms of accolades, where we received two awards within only a couple of weeks of each other. Our first, from financial analytics company Plimsoll, named us as an 'Outstanding Company' thanks to our financial successes and growth in turnover. This was a very pleasant surprise for us all here, and we'd like to say a massive thank-you to our customers who have helped us grow as a company and improve our service offering year in, year out.
The second award came from long-term Kite Packaging client Eaton Corporation, a $20 billion global power management business. Kite was the only UK supplier of Eaton to receive its prestigious 'Premier Supplier' award, an accolade that we have now won seven times. Not only was this a great triumph for the business it also meant we set a new record, being the only supplier to Eaton in the world to have ever won the Premier Supplier award seven times. Needless to say, we were over the moon!
New Website Design
Last week we dedicated the blog to the new website design, which included several new usability functions and a fresh new look. This project has been the Kite Online team's baby, and we were extremely pleased with the final result and positive feedback from customers. New functions included an innovation from our technical team, the intelligent search bar, which predicts products customers are searching for and features a 'search by size' option which filters out products most suited to the size of your item.
The new website is all part of our on-going drive in e-commerce to provide customers who require stock product the best prices, a full range of packaging goods and a way to purchase them in a simple and efficient way. There will be even more new tweaks going on in the background over the coming months, aimed at making your customer journey completely stress-free.
New Trucks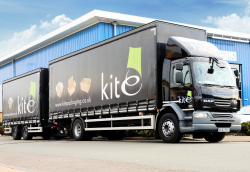 Our Swindon branch, who supply to our branch customers across the Thames Valley area, has recently made a huge investment in the transport and delivery aspect of its business with the acquisition of a new truck. The Wagon and Drag, full livery designed vehicle was chosen for its impressive capacity which spans to 112mü - almost twice the amount of a fixed body 18 tonne truck. Our national distribution centre has undertook an extensive project looking in to the various benefits of these trucks, which include a reduction in CO2 emissions - an environmental benefit Kite is passionate about as part of its ISO1400 targets.
The new truck will help the Swindon branch grow its branch business and provide service solutions such as Just-In-Time and Direct-to-Line to more accounts. The truck is planned to be the first step towards a fleet of Kite Wagon and Drag trucks, which will be rolled out across the UK.
New Buildings for Further Growth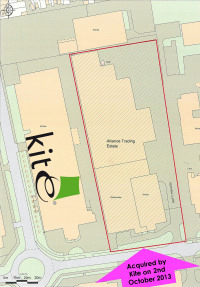 Just a few days ago, our Sheffield branch announced that it would be moving to a new location due to their 50% growth in head count. The new building will be based in Rotherham and boast 30,000 sq. feet of space - 10,000 more than the previous location. The acquisition represents a £1.5 million investment for Kite, and is yet another indicator of our rapid expansion in the packaging industry.
Our Midlands office is staying put but growing, with a recent purchase of an adjoining building to create further warehouse space and offices for the accelerated expansion it is experiencing. The Coventry based building houses three of Kites businesses including Midlands accounts, Kite Online and KES (Kite Environmental Solutions). The new building will make way for even more job opportunities across the business and an extended product range which will be revealed in 2014.