Top Picks: Halloween Packaging
Which Brands Have Gone All Spooky?
With just over a week until all the Halloween festivities start taking place we've been admiring the latest and greatest Halloween themed packaging from some of our favourite brands. The great thing about Halloween in terms of packaging design is that it allows you to be as outrageous as you want all in the name of good fun, and is the only time of the year when you're allow to scare people!
This year has seen a plethora of limited edition Halloween themed packs that are innovative and fun, and in today's post we pick our favourite scary groceries to really get you in the spooky spirit. Take a look below at some devilish designs.
Can you think of something better? Let us know what you'll be bringing to your Halloween party on Twitter - @kitepackaging
Lyle's Golden Syrup - Trick or Treacle
Hats off to Lyle's this season, the trusted British brand that has been around for years (since 1881 in fact) and has a rich history, supplying to Royals and the majority of British kitchens. The trusted lion logo and green and gold packaging is as recognisable as the McDonalds golden arches, and the black and red version to package its black treacle has a similar traditional feel.
The 'Trick or Treacle' tin is fitting for Lyle's black treacle product, as the current red and black design is a typical colour scheme of the holiday. Featured on this tin is a scary looking pumpkin with the words 'Trick or Treacle' emblazoned across the front. Lyle's has gone one step further with this design, which features three unique pumpkin designs to show different spooky expressions. The launch of the tin has also challenged Master Chef winner Zoe Salmon to cook a feast in one of the most haunted buildings in Britain and asked fans for their spooky recipes using the ingredient.
However, the most brilliant thing about this design concept is that the mouth and eyes of the pumpkin face have been cut out so that once the treacle has been eaten you can pop a candle inside and turn them in to pumpkin lanterns! Perfect for any Halloween party or letting the Trick or Treaters know you're home. We love this design, mainly for the collectability element using the three design templates, this is a clever marketing technique that will encourage sales and continue to promote the brand even after the product inside has been consumed.
Mr Kipling - Creepy Cakes
Another British institution, Mr Kipling cakes have been enjoyed for years and they always pull out the stops for the key celebrations. This Halloween the baker has created three different bite size cakes that will look pride of place on a Halloween buffet including Shock and Orange Slices, Toffee Terror Whirls and Fiendish Fancies. Kipling never fails to deliver around the Halloween season and their mini treats are perfect for kids and adults.
Much like Lyle's these cakes have been designed in a clever way that still sticks to the brands recognisable styling but with a scary twist. Our favourite is the Fiendish Fancies, a regular Halloween feature for the bakery brand. The orange and black packaging fits in well with the cakes themselves which have orange icing with black piping. We particularly like the change in brand slogan from 'Exceedingly Good' to 'Exceedingly Creepy' - touches like this really add value to limited edition packs such as this.
It's nice to see Mr Kipling hasn't just stuck with the usual suspects for this year's Halloween offering, introducing a new product - Toffee Terror Whirls to the mix. The packaging however isn't the most inventive, and seems to be very similar to the Fiendish Fancies. Although this fits in well with the overall range it would have been good to see a slightly different take to advertise the fact this is a brand new product.
Harcos Labs - Potions
Harcos Labs is an American brand, but thanks to the likes of Candy Hero and other US import UK stores we Brits can also enjoy these eccentric flavours. Although the products are actually offered all year round, we just had to feature them on the list due to the imaginative packaging. Kite's favourite, 'Blood Energy Potion' is a thick fruity energy drink with a twist - it comes in a blood bag. Harcos have gone one step further in this product innovation - making it as similar to real blood as possible with similar nutrients and iron properties. A perfect treat to give to Halloween guests or as a gift for a Twilight fan it looks real and can even be served warm for something really authentic.
The packaging is really creative, and everything has been thought of. Different flavours are given blood group names such as B+ instead of the usual flavour names and the label has been 'stained' in blood to give a gruesome effect. It also has a hole at the top so you can hang them as edible decorations or use as part of a Halloween costume on a makeshift hospital drip for extra scare points.
The company also do a whole heap of other unusual and Halloween themed products, all in excellent packaging. A similar product to the Blood Potion is called Zombie Potion and was another treat to jump out at us. The green drink comes in a Zombie blood bag, complete with biohazard warning labels. These make a great addition to a zombie themed party, and can be left around the house as part of a mission to protect against zombies - trust us, kids will love this.
And in other news.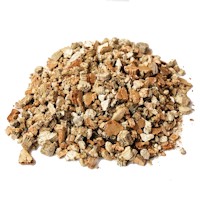 Halloween got us thinking about our customers in the hazardous goods industry, let's hope you never have to transport zombie blood however certain chemicals and dangerous items need to be packaged and protected well. We have just launched vermiculite to the site, this is a specialist loose fill product manufactured from natural minerals which is fireproof and highly absorbent. This makes it an excellent product for packing flammable goods such as specialist chemicals as well as many non-packaging uses such as insulation and horticulture.
Please note that Kite Packaging is not connected to or endorses any of the products or companies mentioned above.