Transporting Small Fragile Glass Bottles – Packaging Doctor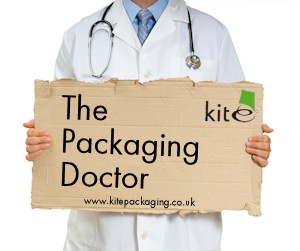 Chilli's... you either love them or hate them. It all comes down to how much heat you can handle. And the handling of goods seems to be an issue that is brought into the surgery for many of my patients.
I am sure that nearly all of us can pin point one experience we have had of receiving a long awaited package in the post and being left disheartened having opened it to find it damaged or smashed into pieces, I know that I certainly have. This causes an all-round negative experience for everyone involved; we as the customer are left disappointed and unsatisfied with our purchase, and the supplier is at risk of having their reputation ruined and loosing those hard earned pennies.
In the surgery today we are discussing a hot topic, and provide our chilli farmer with a simple packaging solution to help them avoid their bottles being broken during transit.
Dear Doctor,
We are a family run business who proudly have our own chilli farm, making and selling highly priced chilli based products.
We started off selling locally at food festivals and to local suppliers for three years but due to the increase in demand we expanded and are now operating as a full time business.
The problem that we currently face is the transit of our products from the farm to our customers. We regularly receive complaints that when our customers receive their products, that they have been broken during transit which is extremely disheartening and concerning.
We currently use one size box to package our whole range along with foam for protection. Is there something else that you would suggest we use to avoid this problem continuing?
Thanks,
Sam
Hi Sam,
Thanks for your question. Please don't be alarmed, this is an issue that I am asked frequently and I have a simple yet effective solution right up my sleeve that will help solve this issue.
Firstly, I would consider looking at our range of single wall cardboard boxes. These boxes are sturdy and highly adaptable, providing instant protection and reliability. Our boxes are available in a variety of dimensions and sizes to suit your range of products at an affordable price so you won't be out of pocket!
To complement the box I would then suggest large bubble wrap. Made with large bubbles, this is ideal for filling large spaces and providing cushioning to your bottles.  Bubble wrap is popular for individuals who are shipping fragile, and easy breakable items and using our large bubble range means that less wraps are required, cutting down on costs.
Finally, complete the package with a fragile label. These labels provide handling and shipping instructions to ensure boxes are handled in the correct manner and with care by your couriers, helping prevent damage caused by mishandling.
Hope this helps,
Best wishes
The Packaging Doctor
Note: All the packaging problems our doctor receives are real queries from customers or non-customers.
If you have a packaging problem that needs diagnosing get in touch on Twitter @kitepackaging or email packagingdoctor@kitepackaging.co.uk