Transporting Birds In Boxes – The Packaging Doctor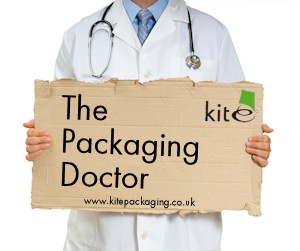 Hello again, thanks for paying another visit to the surgery where we have another packaging problem to solve. We've been very busy in Kite HQ as always, celebrating our 13th birthday – that's right we're a teenager! We had a great day on the Thames to celebrate – don't worry I was there armed with bubble wrap and boxes to save anyone who went overboard. We can't believe we've been around for 13 years old now – and with so many employee partners from our very first Kite birthday it's great to have so much packaging expertise in one place.
Now before we visit the patient let me tell you that I love my job, packaging is my passion and giving advice is something I have always excelled in. Plenty of people love their jobs, and sadly plenty of people hate their jobs, and there are a few…not many but a few who have the best job in the world!
I don't often feel envious but today's patient's problem excited me, working with animals must be one of the most fulfilling jobs in the world and I think highly of anyone who genuinely cares about protecting wildlife. If you're a David Attenborough fan like myself you'll know what I mean! Anyway, I won't keep you waiting – let's take a look at how packaging helped out a zoo…
Dear Packaging Doctor,
I am the Lead Bird Keeper at a zoo, I look after the wide variety of bird kinds that we have here including Penguins, Parrots, Owls and of course the gorgeous and exotic Flamingos. Soon we will be moving the Flamingos to a new part of the zoo which has been under construction for some time – and is a few miles away from the bird's current home.
Ideally I need something really temporary to transport them in – there is 100 birds in total to move so as you can imagine I can't simply walk them across the park!  The difficulty is they are an odd shape! Flamingos are typically over 1 metre in height and I can't find a box suitable – can you help?
Thanks and best wishes, Marianna
Hi Marianna,
Wow, 'Find box for 100 Flamingos' certainly isn't the usual task you would find on anyone's to-do list, your job must be incredibly interesting! I understand your frustration with finding suitable boxes though – life would be much easier if there was a 'Flamingo Box' manufacturer! The next best thing however is definitely a Wardrobe Carton – used mostly in the removals and fashion industry it is traditionally used to transport rails of clothes and for that reason comes in at a height of 1220 mm (122 cm – taller than a metre).
Of course you won't need the plastic rod so that can be disposed of, however the cardboard is double-walled and heavy duty to ensure the birds are well protected and will remain in the boxes until they are released. For extra protection I would recommend using tape – masking tape may be best from an environmental point of view – to secure the boxes, as the wardrobe door does have a tendency to open in transit.
Hope they settle in to their new home.
Best Wishes,
The Packaging Doctor
Note: All the packaging problems our doctor receives are real queries from customers or non-customers.
If you have a packaging problem that needs diagnosing get in touch on Twitter @kitepackaging or email packagingdoctor@kitepackaging.co.uk