Transporting Wedding Cakes – The Packaging Doctor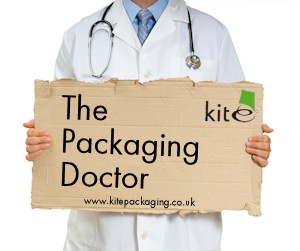 In case you haven't noticed wedding season is in full swing, and for bespoke bridal businesses it's a hugely busy but rewarding time of the year. Of course many of us are used to seeing wedding goods in beautiful boutiques, ready for picking by a keen bride-to-be. However, these wonderful products often didn't get made and appear in that store – sorry to burst your bubble but most wedding fayre is mass-produced these days by large manufacturers and shipped out to suppliers.
Of course this doesn't mean they aren't produced lovingly and the protective process for larger items is crucial in delivering goods to suppliers without damage. Today we have a patient who wants to transport one of the crowning jewels of any wedding ceremony – the cake. But not just one cake, read on to find out more about her pesky packaging problem.
Dear Doctor,
I am a manufacturer of large wedding cakes and have recently secured a contract with a high end department store. The cakes I make weigh about 16 Kg, and are approximately 45 x 30 x 30 cm in size, they need to look presentable but also be protected by sturdy outer packaging.
These cakes are shipped on pallets as the orders are large, and to save shipping costs and space I need to send three cakes per pallet – therefore the packaging must be sturdy enough to stack on top of each other and stay in place.
If one of these cakes gets damaged it could seriously jeopardise my contract, and as you can imagine remaking a wedding cake is a long and difficult task which will hold up my deadlines on other orders.
Please can you recommend some suitable packaging?
Thanks in advance,
Clara
Hi Clara,
It always amazes me just how heavy and cumbersome wedding cakes are, all that alcohol soaked fruit must give it some serious grammage! I completely understand you want each and every cake to arrive perfectly, particularly when it is a new contract damaged goods don't give the best first impression.
For presentation you are best to firstly place the cake inside a white cardboard box, which is often associated with luxury baked goods. For the outer packaging I would highly recommend our extra heavy duty boxes, as these are the monster trucks of packaging! Our XHD3 size would be perfect for the size of your cake and can take a maximum load of 231 Kgf, meaning it could actually stack 14 cakes on it before it crushes! It is also made from a 6.5mm thick BC flute board which offers shock absorption and high strength.
To secure the boxes to the pallet you may also require stretch film, we supply these in various forms but I would suggest extended core 17 micron wrap for this particular use, as the extra-long core makes it easier to apply. Medium duty pallet wrap is great for medium sized loads and secures the boxes to the pallet to ensure it doesn't move around or become damaged. It also offers extra protection for the outside of your boxes so that they don't get punctured or scratched.
Happy baking,
The Packaging Doctor
Note: All the packaging problems our doctor receives are real queries from customers or non-customers.
If you have a packaging problem that needs diagnosing get in touch on Twitter @kitepackaging or email packagingdoctor@kitepackaging.co.uk