Using Packaging For Halloween – The Packaging Doctor
The Surgery Is Now Open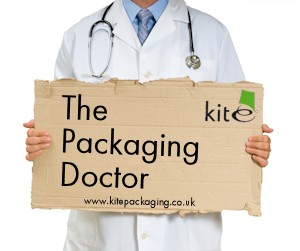 Hello Doctor,
I work for a large entertainment company and every year we hold a special Halloween night for all staff in order to raise money for charity. We usually have a quiz and various acts, everyone gets really in to it and dresses up. It is my task this year to arrange the party and I have most things sorted, however what I would really like is to hire actors and have them coming out of makeshift coffins! I've hunted around for something that is 'coffin-like' but to no avail. Have you got any ideas?
Many Thanks, Helen
Hi Helen,
Wow sounds like it's going to be a night to remember! Going by your description it sounds like you need something that can be decorated, opened when laid flat and fit a person in. Luckily when it comes to the Packaging Surgery nothing is impossible!
I would suggest using our Wardrobe Cartons, these are typically used to store clothes but as they are 48 inches long a person could easily squeeze in, you could even cut the bottom flap for extra length. As these are designed to act just like a wardrobe you will need to discard the plastic hanging rail, however it does have a 'door' flap at the front which can be dramatically opened by your actors to reveal all kinds of scary zombies, vampires and mummies!
The cardboard outer can be easily painted over with black poster paint to create a terrifying coffin, for extra effect why not drape with off-white tissue paper for a real haunted house look. The boxes come flat-packed and are really easy to assemble, you can also get bulk discounts when you buy large quantities online - perfect if you want to create an indoor graveyard!
Happy Halloween! - The Packaging Doctor

Note: All the packaging problems our doctor receives are real queries from customers or non-customers.
If you have a packaging problem that needs diagnosing
get in touch on Twitter @kitepackaging
or email packagingdoctor@kitepackaging.co.uk