We have invested in our warehouse infrastructure to support continued growth
Kite Packaging invests for growth
We have improved our warehouse infrastructure to support continued growth
Well-functioning warehousing facilities play a vital role in the overall supply chain process and it goes without saying that it's fundamental for warehouses to achieve both efficiency and effectiveness.
Reducing cycle times and improving customer service is crucial and can be supported with the addition of new innovative solutions. People play a huge role in warehouses and are an important asset, even in a highly automated and system controlled operations of today, warehouses are still heavily dependent upon good calibre people manage effective operations.
During periods such as 'peak season' many warehouses see a significant increase in activity, whether it's increased stock turn or rises in the number of orders going through despatch departments. As a company with customer satisfaction at the centre of everything we do, we have taken steps to improve efficiency within their warehouse operation to better serve their online customers.
Health and safety, particularly in busy warehouse operations, is something that needs to be taken seriously. The HSE statistics show that in the past 20 years there has been a downward trend in the rate of fatal injury in the workplace, though in recent years this trend is showing signs of levelling off.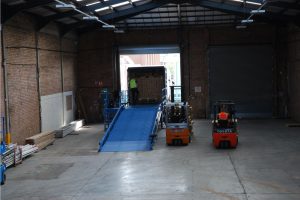 We have recently invested in a new 'dock leveller' for our warehouse operation in Coventry. This follows another year of strong growth and the need to create efficiency to cope with increased delivery rates from our inbound suppliers.
Through the adoption of a new dock leveller ramp, we can now optimise labour efficiency and speed up the process of their warehouse operation. Our dock leveller allows loads to be moved in and out of the lorry in a single horizontal movement, by bridging small differences in height between the loading and unloading bay and the vehicle bed, ensuring a smooth and safe transfer of goods. In terms of time the new addition to our warehouse operation saves over half of the time to off load a hand ball container.
We are expanding our site on Torrington Avenue, demonstrating our on-going commitment to investment in the area, acquiring neighbouring commercial property and making changes throughout our warehouse operation to support our rapid expansion and plans for future growth. The focus of expansion is also happening across our group with our UK-wide branch divisions also looking to expand. The 32 new roles are across a broad range of departments from our warehouse operation, IT, marketing, sales, and customer service and credit control.
For more information on Kite Packaging and our products and services contact www.kitepackaging.co.uk.