We Now Sell Our Acrylic Tape In Retail Packs
If you are a low quantity user of acrylic tape we have great news for you! We now sell our Branded Polypropylene Acrylic Tape (48mm x 66mm) In packs of 6.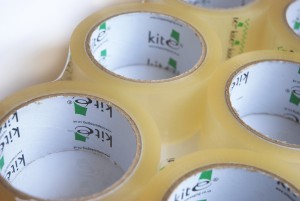 Here at Kite we aim to offer small and large users highly competitive prices for high-quality products and as result our top-selling tape is now available in packs of 6, at market beating prices - perfect for small orders and businesses that do not need a full box of 36 rolls.
Our own-branded standard tape is made from polypropylene, available in clear and brown and uses an acrylic adhesive. The tape is particularly ideal for general purpose use and can accommodate a variety of sealing requirements including boxes, bags and polythene mailing bags. It provides a secure seal for items in storage and in transit.
As well as our range of Polypropylene Acrylic Tape we supply a range of other high-quality market leading tape products including our Enviro-tape, custom printed tape, standard warning printed tape, gummed paper tapes, machine tapes and tape dispenser guns. All tapes are available in a range of lengths, widths and colours.
To learn more about our products and services visit: www.kitepackaging.co.uk