Welcome to Our Brand New Website
Our Fresh New Look and User Tools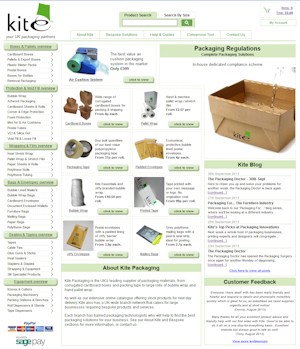 Hi All,
We hope you all got a pleasant surprise today when you logged on to www.kitepackaging.co.uk and feasted your eyes on our new and improved website! We're incredibly excited about the re-launch, which has been a long-term project of our technical team. The website has not only been given a fresh, cleaner style for better surfing but a whole host of new tools have been developed to improve your customer experience. We aim to give you the best in class service online and our new usability features have been tried and tested to make the search, viewing and order process a lot easier.
Take a look below at some information about the new features the site contains and how to use them, what do you think? We'd love to hear your thoughts, have an explore and get in touch on Twitter - @kitepackaging
Intelligent Search
A key focus of our website re-design has been the improved search feature which can be found above the navigation bar, in the top centre of the homepage. We wanted to make this feature much more intelligent so that customers can find the products they need faster and easier. Our predictive text feature makes searching for the products you need a less stressful process, simply begin typing the product you're looking for and see how the search tool cleverly guesses which product you want. This tool is a vast improvement on our previous search bar which was a key usability concept highlighted in our initial discussions. Our full range of 2,500 products has been incorporated to the new feature, so no matter what you're looking for if Kite has it you can find it.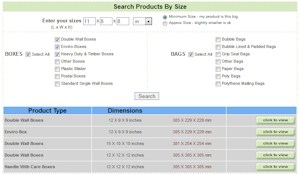 You'll notice the search bar has two tabs - one for searching by product and one for searching by size - another key development of our website re-design. Our existing customers may remember the 'Box Size Finder' which used to be located at the top of the left hand category column, the new tool works similarly to this but now you can also search for bags by your required sizes. All you need to do is click on the 'Search by Size' tab at the top of the search bar and key in your required dimensions. These can be mm, inches, cm or metres - the search tool will automatically convert to our preferred measuring units. You can also use the tick boxes to select what kind of bags or boxes you are looking for, or select them all for a general search - ideal if you're not yet sure what to pack products in.
Improved Navigation
We've improved navigation on the page by having a simplified top navigation bar, these incorporate all the important information you may need outside of the product selection. Company information, guides and demonstrative videos, useful information such as our returns policy and FAQs, and clear, concise contact information is now easily accessible. The navigation bar has been designed so that you can see at a glance the vast amount of information we have on offer - simply hover over the tabs and you can see all the different sections with ease.
We have also worked hard at improving our product categories which you can see along the left hand side of the homepage. Our most popular products are featured in the main body of the homepage so that you can quickly click through to buy pallet wrap, boxes and tape, however for a better look at the entire product page the sections have been divided more clearly and hovering over the sections clearly highlight categories. As you click through these categories you can view all the products available for that section on one page, with clear images and descriptions.
Enriched Product Pages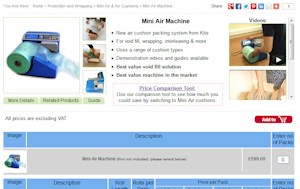 Our product pages have had a complete overhaul so that making a packaging purchase online is as simple and informed as possible. We wanted to add key elements to each page that helped customers make an informed decision when purchasing online. In our research we observed that customers need as much information and interaction as possible, so that they feel like they know the product before it arrives at their door. We have introduced even more product videos which are short and helpful, mainly looking at the application of our products in terms of how to use them effectively. We have also included more product images so you can view a product from all angles, and in close-up as well as more detailed product descriptions.
If you are browsing the website and see a product that would benefit your business, but are not the key decision maker in terms of purchasing we've added handy sharing tools to each product page. These enable you to share our products with your colleagues via email and on social media including Facebook, Twitter, Google+, LinkedIn and Pinterest.
New Tools

As well as the search tool we've improved our handy conversion tool so that it is easier to access and to incorporate more unit measurements. You can now convert any measurement of distance in to mm, cm, metres, inches, feet and yards. You can even enter plastic measurements such as microns and generate the matching gauge and mm thickness. You can find the new conversion tool at the top of the page on the navigation bar.
We've also incorporated some other product specific tools, a key highlight is the Mini Air Price Comparison tool which was launched with the new product to help you estimate how much you could save on void fill costs by switching to air cushions. Simply go to the Mini Air product page and select 'Price Comparison Tool', enter the type of void fill you use, how often and at what price and see the annual savings you could make.
Group Customers
The Kite Packaging website is not just a place for buying packaging, but a place to find out about the Kite group as a whole. As some of you may know we have a whole other business which specialises in bespoke solutions for large accounts across a number of different industries. Now you can find out about all the different bespoke packaging products we offer from corrugated to foam and read our case studies and service offerings for the automotive, aerospace, food, e-commerce, healthcare, retail and electronics industry. Simply hover over the 'Bespoke Solutions' tab and select the option which best applies to your business.
'My Account'
The 'My Account' section has also had a few key changes to improve customer use, with tools to generate detailed reports and much more.
Join us again next Wednesday where we'll be going in to deeper detail about the website re-vamp, and how to manage your online Kite account. In the meantime, enjoy using the new site!