We've launched the latest version of our ecommerce website!
We've rolled out the latest evolution of our ecommerce website...
As a company known for our innovative thinking and market leading performance, we are always looking for opportunities to make our brand and business better. Our Kite group, formed in 2001, has the UK's leading ecommerce packaging distribution website.
Kite's team of ecommerce specialists have just completed our latest project – to redevelop and evolve key features of our B2B website.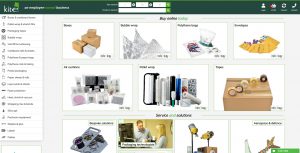 As the business to consumer online market grows, the world of B2B has existed in a relative adolescent state. Although traditional, online transactions are typically thought of in a consumer capacity, the value of online purchasing for B2B is growing all the time. With global business magazine Forbes' recent statement on the expected spend per B2C customer being considerably less than B2B, it puts greater emphasis on the B2B space to focus more on better automation and efficiency in their online presence.
More and more businesses are seeing the value of taking their brand into the online market even if they still maintain a bricks and mortar business. The shift from bricks to clicks can often prove challenging but nevertheless rewarding as we have discovered when we became the first in our sector to launch a fully-fledged ecommerce website.
The focus of our latest ecommerce project is on improved user experience including elements such as better navigation, design advances and improved on site functionality. All of which further enforce the strength of our brand.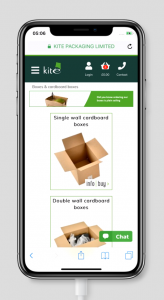 A particularly useful design element of our new website is its enhanced usability for those accessing the site using a handheld device. With the concept of 'web responsive design' surfacing in website development in recent years, organisations have been expected to produce an interface in which customers can navigate across with ease irrespective of the smart device they are using. We have had a responsive website for several years and the newly enhanced version gives an even greater customer experience for those customers using our website on a mobile device.
Our site's high quality videos in the form of demonstration videos and explanatory company information videos can now give customers a deeper insight into our brand and products. As these are a highly successful visual element in the online world, and with marketing predictions of 2019 suggesting video popularity is only set to increase, their inclusion is becoming an integral part to executing successful, online business platforms.
As well as a market leading ecommerce website, our strength also lies in its existing network of regional distribution centres which the latest site includes expanded details for. Users can now access a more in depth analysis of our services and solutions division, exploring our capabilities and viewing case studies. Case studios and videos about our aerospace and defence division, load retention engineers, in-the-box solutions team and packaging regulations division are also available.
Our employee-owned philosophy of "customer satisfaction matters so much more when you own the business" drives our service driven behaviour and our new, improved user experience amplifies why we are at the leading edge of B2B ecommerce in our sector.