What Is Die-Cut Packaging? – The Packaging Doctor
The Surgery Is Now Open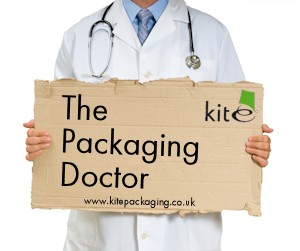 Hi Doctor,
I am doing a school project on packaging and packaging design for my graphic design course and keep coming across terms that I am unsure of. One of them I literally see everywhere – die-cut packaging – what is this?
Thanks, Max
Hi Max,
I wish I had to do projects like that in school – makes a change from boring old algebra! You're absolutely right – die-cut packaging is a common term in our industry because it is a key product of the bespoke corrugated world.
There are two ways to manufacture boxes – the first is an inline process which is when a piece of board is fed through a machine with individual wheels and blades on it – effectively spitting out a readily cut and scored box. This process is usually used for standard stock product as the right sizes are already programmed in to the machine and can therefore produce high volumes. The second is die-cutting, a process which involves a large 'stamp' being created out of several blades that is firmly pressed into the board by a machine that can apply pressure (known as a flatbed). There is also another type of die-cutting – known as rotary die cutting – where the die (CAD design) is on a cylindrical press and rolled over the board – ideal for high volumes.
The benefit of die-cutting is that using a CAD (Computer Aided Design) concept, practically any style of box can be created. This is perfect for bespoke customers who require a carton that fits their product exactly. Box dimensions are always given by the internal dimensions as this is where the product sits – external dimensions differ by the thickness of the board. It also means that various closures and added fittings can be included in the design, many favour self-locking bases to speed up the packing operation and tamper-evident closures for security.
Many of these boxes can be found in the FEFCO (The European Federation of Corrugated Board Manufacturers) style guide which includes over 900 box designs. These can then be adapted to fit certain custom requirements, but generally the guide gives a great starting point for developing a bespoke carton.
Good luck with your project, The Packaging Doctor

Note: All the packaging problems our doctor receives are real queries from customers or non-customers.
If you have a packaging problem that needs diagnosing
get in touch on Twitter @kitepackaging
or email packagingdoctor@kitepackaging.co.uk