What is the 'Tape Test Challenge'?
You may have read about the Tape Test Challenge in several emails and adverts from us over the past few weeks and are wondering what we mean. Put simply, we believe that customers can save money by making a small change to a commonly bought packaging product - adhesive tape. The 'challenge' is to compare it to your existing supply and see what you can save.
When you think of sealing, tape is the first product that comes to mind, making it one of the most widely used tools in the packaging industry. Containing a pressure sensitive adhesive that bonds to items being sealed, it can be very strong yet is quick and easy to dispense and apply. This makes it ideal for sealing boxes, where a single strip is usually applied over the folding flaps. Several different types are available, with the key differences being the adhesive (hotmelt or acrylic) and carrier (polypropylene or PVC) used. It is commonly available in clear or brown, but other colours are available (and we also offer a custom printed option). With all these option available and for a relatively low cost compared to other sealing methods, it is clear why tape is the obvious choice.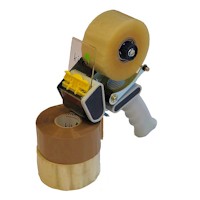 We wanted to offer a tape that has all of the advantages above, but in a more environmentally friendly and efficient format than on the traditional 3 inch core.
What if we could reduce waste by making the core smaller and putting more tape on the roll? This was the question our experts asked themselves when they developed envirotape, a less wasteful and more efficient approach to packaging tape. These innovative new rolls take up the same amount of storage space as their traditional equivalent, but are 127% longer.
Having all this extra tape on one roll brings many advantages:
As each roll lasts much longer they need to be changed less often, reducing downtime
Fewer boxes of tape need to be stored, freeing up valuable warehouse space
Less tape needs to be transported, reducing carbon emissions
Fewer (and smaller) cores are discarded, leading to 63% less cardboard waste
And most importantly - cheaper cost price per metre!
So why not take the Tape Test Challenge yourself to see what you could save? Our simple calculator tool does all the work for you, just enter details of what you currently order and we will do the rest.