What should have been used to pack our "Bad Packaging" winning entry?
What should have been used to pack our "Bad Packaging" winning entry?
Our "Bad Packaging" competition ended at the beginning of January, and we had many entries showing an array of poor packaging that our Facebook community had received!
Although it is a fun competition that provides a number of less than perfect examples of packaging, it also provides the opportunity for us to advise better solutions - helping to balance the need for goods to arrive in perfect condition with the need to keep costs low, and the ever-increasing need to reduce waste and environmental impact.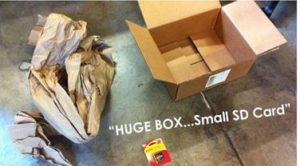 Our winning entry (pictured) featured a small SD Card which had been sent in a huge cardboard box and an excess amount of paper void fill, despite the item already being packaged in a cardboard and plastic pack! This is clearly an example of an excessive amount of packaging being used and does not deliver a good customer experience.
However, with some packaging know-how, we can recommend a far more appropriate alternative!
We would suggest the item could be packed in bubble lined envelopes, such as our Arofol or Jiffy branded bags. Lined with bubble wrap, these postal bags are perfect for mailing items such as SD Cards as they provide cushioned protection, providing peace of mind to the sender when sending a more delicate electronic product.
Bubble lined envelopes have a protective outer material that is tear resistant, and a secure peel and seal strip for efficient closure. What makes these bags a suitable alternative is that the size of envelope required would allow the product to be delivered through a letter box, and therefore would be more convenient for the customer to receive!
By using this much more cost effective solution, the retailer could have saved both cost and reduced the waste created by posting this small product. Without a doubt, using bubble lined mailers is a much more sensible solution!
"Like" us on Facebook to keep up to date with news from Kite, as well as future competitions!