Which Box Is Best? A Helpful Buying Guide
Purchasing cardboard boxes for personal or business needs may seem a simple task initially, but when you consider the wide variety of different options available, the process becomes far more complicated. You've likely figured out it's best to first determine the required dimensions for your boxes (it is environmentally-unfriendly and not economical to use boxes larger than necessary), but where do you go from there?
What exactly are 'double-walled corrugated cartons', 'framed boxes' and 'multiscores', and what tasks are these most suitable for? For what application would you use a 'pallet box'? The following guide will clear up some otherwise confusing terminology, and help you to select the most appropriate boxes for the task at hand.
Seeking Cardboard Boxes for Moving House?
Many people make the mistake of assuming any cardboard boxes will suffice when moving home. However, these same individuals could find themselves spilling their belongings all over the street upon removing containers from their transit vehicle! Stocking up on the very same boxes used by employees of the removal industry - and found in our catalogue - is much wiser than risking potential damages and/or loss.
We stock single, double and extra heavy duty corrugated cartons. The walls of single-wall packing boxes feature two flat liners and one inner fluted medium; elements doubled for the other strength variants. While our single wall boxes are sturdy, we recommend double-walls for moving heavier and/or bulkier items. Our extra heavy duty cardboard boxes meanwhile are particularly heavy duty, and provide fragile goods with extra protection from impact.
Obviously, some housewares are larger than others. Our multiscore cardboard boxes are particularly useful when moving home, since they can be altered to different depths to suit the consignment placed within (a simple cut and fold is all that is required). These boxes eliminate the need to purchase a selection of boxes with different dimensions.
Our wardrobe cartons are highly convenient for movers. Clothing can be taken from a wardrobe and hung directly on the plastic hanging rail inside, meaning garments are at no risk of creasing or damage as a result of folding.
Movers might also like to purchase some of our polythene furniture bags, to protect their sofa and other soft furnishings from dust and dirt.
Best Boxes for Storage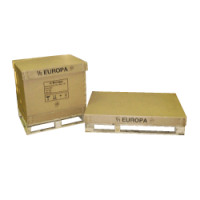 You can of course make use of the previously mentioned single, double and extra heavy duty corrugated boxes for the storage of goods. To effectively protect the items placed within, it is recommended you seal these boxes using packing tape and keep them in a cool, dry area.
If the items to be stored are heavy and will eventually be shipped elsewhere however, you may find our pallet boxes to be far more convenient.
Packed flat, our heat-treated, export-approved pallet boxes are available in a variety of dimensions, are erected in seconds and are designed to fit in shipping containers without any loss of space. The fact these boxes are attached to pallets (also referred to as 'skids'), means each unit load will instantly be ready for removal from your chosen warehouse by means of forklift, pallet jack or other jacking device.
Unique, static-shielding boxes are required for the storage of electronic components to ensure they work correctly once in the hands of customers. Suitable products available from Kite Packaging include Corstat stacking totes, and bin boxes (note: these boxes do not provide adequate protection for shipping electronic components - use electrostatic discharge (ESD) boxes instead).
Boxes Perfect for Shipping Items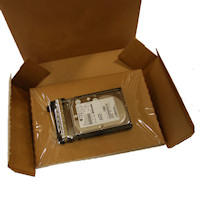 Once more, our single, double and extra heavy duty cardboard boxes can be used for shipping goods via Royal Mail - just be sure to use one of ideal size. Using an unnecessarily large box will see you charged a higher amount for postage and packaging. Similarly, you should consider the weight of your boxes to save money, i.e. do not ship items in extra heavy duty boxes if they are in no way susceptible to damage.
You might like to invest in the previously mentioned multiscores boxes if you are unsure what size box you require, or are likely to be shipping items of various sizes.
The retail, clothing and catalogue industries use Bulk Distribution Carton Metric (BDCM) boxes for the mass delivery of goods as standard - we stock sizes 1-4. If you are selling individual garments directly to customers however, you might like to purchase some of our white postal boxes instead. These boxes are ideal for shipping clothing, since customers will be greeted with their new item exactly how the sender packed it (i.e. neatly) upon removing the lid.
Distinct boxes are required for the most fragile and sensitive of items for delivery. We stock retention boxes (these hold items securely in place using a tight, strong film), and a wide variety of postal boxes with foam inserts for delicate items, including anti-static and ESD variants suitable for electronic components.
Ideal Boxes for Gifts and Attractive Presentation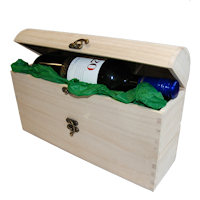 While the right cardboard box will provide goods adequate protection during shipping or storage, something a little more distinct is often required for the presentation of gift items. Our curved, easy-to-assemble pillow boxes - available in red and gold, and two sizes - are perfect for holding trinkets such as jewellery in an attractive, special way.
We recommend our pillow boxes are packed into larger, plain boxes or padded envelopes for transit, in order to protect their appearance from potential impacts. A beaten up, creased pillow box really won't give the gift-recipient a good first impression!
Our white postal boxes (also available in arguably less attractive brown) meanwhile, are suitable for mailing a wide variety of gift items. Usefully, a number of the smaller variants are compact enough to fit within Royal Mail's 'large letter' criteria, which can save you and/or your business significant money. We stock both 'tuck-in flap' and 'pizza style' postal boxes, so we've got you covered no matter your individual preference.
Should the gifts you need to package and/or ship happen to be cakes or bottles of wine, you'll be glad to know you can find cardboard gift boxes specifically designed for these items on our site too (we stock both singular and six-bottle cardboard wine boxes, as well as aesthetically pleasing wooden bottle crates). Additionally, we also provide sturdy boxes purpose-designed for the transit of mugs, cardboard frame boxes for flat items such as paintings, and postal tubes for posters and art prints - an increasingly popular gift.
Remember; the more supplies you buy from Kite Packaging, the more you save. For further advice regarding your packaging needs, please call our friendly, expert team today on 02476 420 065, or email your queries to sales@kitepackaging.co.uk