Zero Waste Week: How plastic can be good for our environment
'Plastic' is often treated as an expletive in environmental dialogues. The problem of its disposal, the fact that it can sit in landfill for terrifying amounts of time and the sheer volume at which it is currently manufactured can certainly be cause for concern.

However, it is these very properties which make it an ideal material for reusable products. The hardwearing nature equips it for regular use time and time again, eliminating the need for single-use solutions and thus greatly reducing the amount of energy and resources needed to do the job. What's more, at Kite we have championed the use of regran plastic, that is, plastic that has been recycled and repurposed rather than created out of virgin materials. This can reduce wastage to zero in some cases, making it an apt material to highlight for "Zero Waste Week".


Our bale arm crates are an excellent example of this focus on optimal sustainability with a plastic product. Made entirely from regran material, they are highly versatile and designed to be reused for years to come. The recycled pellets are bonded together to form a strong polymer, partnered with intelligent design features to ensure the longevity of the product.

Long-lasting strength has been etched into every structural element of the crates, from the wide tray-like shape that evenly distributes weight to the smoothly stackable form that enables loads to be mounted securely while saving space. The retractable bale arm allows the user to easily switch from stacking to nesting multiple boxes to capitalise on this space saving capacity. Furthermore, the plastic is wonderfully lightweight, making transporting loads even easier. Finally, the waterproof material serves to protect the contents from water damage if the box needs to be placed on the ground.

As a result, these versatile boxes can be exceptionally useful for, well, almost anything. Strong and reliable storage solutions are timelessly valuable resources whether you work at a supermarket, warehouse, farm or festival.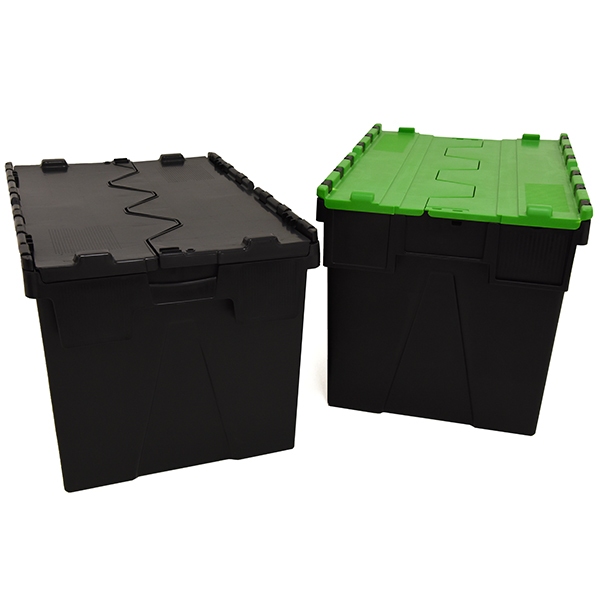 Our attached lid containers are another superb solution, with the black variety comprising of 100% recycled plastic for both the base and lid. Irrespective of these impressive green credentials, the boxes are suitable, even recommended, for heavy duty use. At Kite, we supply a version with a regran base and virgin material lid for extra heavy-duty purposes in order to cater to all applications while offering a dependable reusable product.

The integration of a newly manufactured lid with a recycled base cleverly utilises the strongest material where it is most important: the point at which containers will be stacked and secured with the tabs featured at the sides of each lid. Therefore, no new material is gratuitously wasted; plastic is only produced where absolutely necessary for very heavy-duty tasks. Moreover, these containers will withstand substantial weathering and significant use, making them a highly economic solution with brilliant environmental awareness.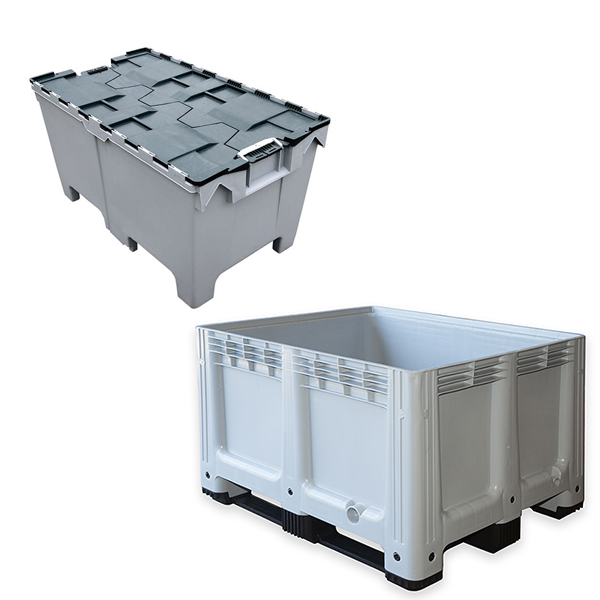 Once you make the one-time purchase of a plastic container, each subsequent use produces zero waste. This is also true of our plastic pallets and plastic pallet boxes, which use virgin material intended to be reused a limitless number of times. These consciously created products unite practicality with a keen eco-consciousness to prove that zero waste doesn't have to mean plastic free.