What is double walled cardboard?
Our double walled cardboard sheets are comprised of two BC fluted layers that create a durable 5mm thick cushion. These corrugated sheets offer twice the standard of shock absorption compared to the single wall version, making them an excellent choice for higher value or more fragile items that require extra protection. We stock them in an array of popular sizes, all of which can be customised to your exact requirements by simply cutting with a Stanley knife or similar.
The diagram below refers to the table dimensions, where length (A) is the first measurement shown and width (B) is the second: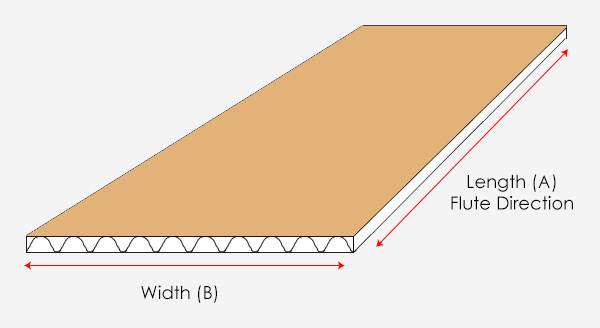 Why use double corrugated cardboard sheets?
These reinforced versions of our cardboard sheets are ideal for creating strong divisions inside a carton or stacking loads in a pallet or storage. Layering pads are effective for separating and protecting fragile products from crushing and damaging each other within a box. Stacked loads can be made safer with a greater capacity by stabilising with separating layers of sturdy double walled cardboard sheets. Naturally, larger weights can be more capably reinforced with these thicker layering pads, making them the superior option for industrial purposes.
A further use of this high quality packaging is the ability to cut the pieces down to size in order to craft a large custom-sized box for any items that exceed the dimensions of standard boxes. Use in conjunction with our strong paper tapes for a fully plastic-free and sustainable packing solution that will dependably transport your goods wherever they need to be shipped to.