What is a postal tube?
These triangular cylinders are able to easily pass through label readers and are accepted external posting materials that can capably protect an array of items. The prism is made from 150K/T corrugated card with an E flute board grade for an impressive level of shock absorption. Moreover, the triangular shape with conflicting forces at each corner gives the structure considerable strength to protect the contents.
What can they be used for?
A primary benefit of the triangular tubes is their ability to tessellate on pallets to save space or act as a wedge to stop the rolling or movement of other parcels during a postal journey. The flat faces are also far more compatible with a label reader than curved sides. Compared to round tubes, the triangular variety is the strongly preferred solution within the courier network for easy label scanning and sortation. The postal cylinders themselves arrive flat packed to conserve storage space within a warehouse or pack room and can be easily assembled when required. The pre-folds make the process simple while the tuck-in flaps keep the shape secure and stable. This eliminates the need for tape or end caps; instead, the integrated end flaps fold over and slot in place for a reliable fastening. Moreover, the whole solution remains plastic-free and sustainable thanks to this all-in-one design.
In terms of contents, these tubes are excellent options for flat paper products that can be rolled and inserted into the triangular packaging, including artwork, prints, plans or posters. Long and thin items such as pipes or furniture parts can also be dependably protected and transported in these particular postal tubes. Therefore, the packaging would prove useful to artists and engineers alike, in addition to a range of other sectors who would benefit from the tight fit and space saving capacities of a narrow, angular triangle tube.

The measurements of the tubes are illustrated in the diagram below to help you select the correct size for your requirements. The length and diameter of each are displayed in the first column of the table and the height is displayed in the second.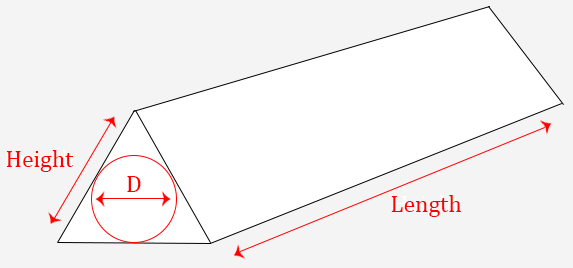 Video:
Triangular postal tubes demonstration video
Demonstrating how to construct and use our triangular tube range.
Our triangular postal tubes are the ideal all-in-one solution for sending and protecting your documents during transit. To construct, simply fold and insert the smaller flaps into the slots, then secure one end of the tube. Place in your goods and secure the other end. All of our triangular tubes are delivered flat packed to save storage space. They can be easily constructed and deconstructed. The tubes can be tessellated (slotted together with no gaps) on a pallet.