What is a heavy duty mailing bag?
Our strongest mailing bags are comprised of 90 (354 gauge) micron polythene, a much tougher and more durable material than that of standard mailing bags. All of these heavy duty bags are co-extruded, which means that several layers of film are extruded together to create a more robust bag. Kite offer six sizes, all of which comply with Royal Mail's PiP guidelines, enabling you to accurately calculate your mailing costs.
What are the features of a polythene mailing bag?
The white outer and black inner creates a 100% opaque product that will fully conceal the contents from view for total confidentiality and security. Due to the strength of the construction, the polythene is also highly tear-resistant to further promote the safe transportation of goods. For heavier or higher value items, Kite's thick polythene mailing bags are an appropriate packaging choice that maintains optimal cost-effectiveness.
The bags feature a strong self-adhesive peel and seal strip on a 40mm lip. The inclusion of this detail provides a fast and easy closure without requiring separate packing tape, simplifying the packaging process for optimal speed. To attach delivery information, these heavy duty postal bags are often partnered with our range of multi-purpose labels, specifically designed to withstand shipping journeys.
When to use heavy duty postal packaging
The enhanced durability of Kite's heavy duty postal envelopes makes them considerably more tear-resistant and adept at carrying sharp or heavy objects. The mailing sacks are particularly popular in mailing and dispatch industries when sending out bulky items such as catalogues and heavy pieces of literature, for example. Unit cost is still extremely low, plus the polythene is made very thin and lightweight to minimise shipping fees, making these products a great alternative to postal boxes for many items.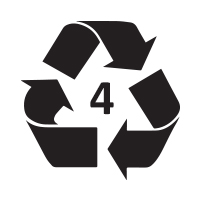 Click here for our recycling guide