What is a weather mailer?
Kite Packaging's weather mailing bags offer the highest quality of protective bubble lined mailing pouches combined with the traditional protective qualities of polythene mailers. The outer is comprised of co-extruded 85 micron polythene for excellent strength and tear-resistance in order to transport a range of different products. Available in three different sizes to cater toward an even wider selection of items, Kite now offer one of the most comprehensive ranges of protective mailing products in the market with the addition of these specialised mailers.
What are the unique features of this postal packaging?
The waterproof outer layer gives the product its name, while the high quality bubble wrap lining reinforces the packaging with premium shock resistance. Due to the flat-packed construction of the pouches, the mailers offer great space conservation alongside a snug fit for the contents. This minimises the chance of damages since the items are prevented from moving within the package and colliding with internal surfaces. The bubble lined inner and the 85 waterproof micron polythene will be sure to protect your products, particularly in poor weather conditions where parcels are exposed to the elements.
This professional packaging combines premium protection with reliable security to grant the sender optimal reassurance when shipping their products. The seal is tamper-proof, the exterior is waterproof and tear-resistant while the entire package is opaque white to conceal the contents.
What are waterproof mailing bags used for?
If you frequently send items of mail that could be easily damaged in the post and need extra protection from the unreliable weather we often experience, Kite's weather mailers will always suit your purposes. They remain an economic mailing solution while delivering excellent protection, minimising the chance of costly returns due to breakages. Shipping costs are also kept low thanks to the lightweight construction.
The three sizes cater toward medium sized homeware items, smaller breakable gifts, books, accessories or an array of other diverse products. Use with or without our range of multi-purpose labels to display delivery information; the surface can be written on directly with a ballpoint pen.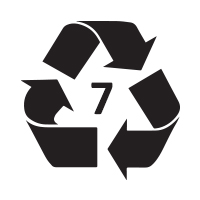 Click here for our recycling guide
Video:
Weather mailers
Waterproof bubble lined mailing bags
We are going to test Kite's new weather mailers by placing a mobile phone inside a mailer, sealing it and testing its waterproof outer.
Made from co-extruded waterproof polythene, weather-mailers are capable of protecting your products from the elements. They are lined with a shock-resistant bubble wrap lining to protect goods during transit and are available in a range of sizes.
The phone is completely dry and works. Kite's weather mailer is a great, all-in-one postal solution.