How To Cheaply Package Walking Sticks – The Packaging Doctor
The Surgery Is Now Open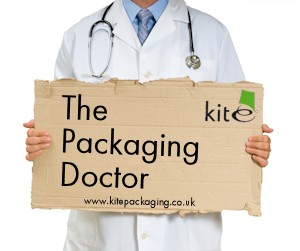 Hello Doctor,
I have a very unique on-line business selling bespoke walking sticks, they come in a variety of designs and sizes and have been produced so that people who need them can see them as more of an accessory than a burden. I am looking for a box that will be suitable for sending them out to customers, it needs to be quite long and very thin.
Many Thanks, Celine
Hi Celine,
Sounds like an interesting venture, it's amazing how many different kinds of walking sticks you can get these days so you've certainly tapped in to a growing market. I have had a look and although we do stock some narrow boxes none are particularly suitable to your application.
May I instead suggest lay-flat tubing? These polythene rolls are incredibly tough so that they protect against moisture, dirt and impact damage as well as providing a presentable looking packaging solution. I think you would be best suited to medium duty polythene which is 62.5 microns thick, it offers excellent burst resistance and comes in a huge selection of widths, I think 3 inches would suit your walking sticks. You will also find this option a more cost effective solution than boxes.
Tubing such as this comes on a roll, all you need to do is insert the walking stick so the tubing covers it, cut to size and then seal both ends for a fully finished package. Polythene tubing is perfect for long items and also saves hugely on delivery costs as it is lighter than a box and will take up less space on a truck. I would also suggest using the tubing in conjunction with one of our polythene heat sealing machines. This will allow you to apply a rapid, consistent and robust seal to the polythene guaranteeing it will arrive with your customer in a well presented, thoroughly secure way.
Good Luck, The Packaging Doctor

Note: All the packaging problems our doctor receives are real queries from customers or non-customers.
If you have a packaging problem that needs diagnosing
get in touch on Twitter @kitepackaging
or email packagingdoctor@kitepackaging.co.uk