Clear polythene layflat tubing
Layflat polythene tubing is a versatile packaging material used throughout numerous industries for a host of applications. Sold as one continuous clear polythene tube wound onto a roll, polythene layflat tubing is available in a selection of widths and gauges, each suitable for sealing with either a heat sealer, ties, staples or tape. Our polythene tubing is a superior quality packaging solution.
Medium duty 250 gauge / 62.5 micron polythene tubing is widely used in warehouses and packing departments to produce custom sized plastic bags. Simply cut to length, seal at one end and your poly bag is ready for use. Medium duty layflat tubing is best suited to lighter weight use, for example, to create custom sizes polythene bags for clothing, linens, posters and stationery.
Heavy duty 500 gauge / 125 micron layflat tubing is the polythene tubing to choose when a higher puncture resistance is required. Widely used for packing carpets and rugs, heavy duty layflat tubing can be used to create custom sized poly bags to protect awkward shaped and heavy items from dust, dirt and moisture.
Extra heavy duty 1000 gauge / 250 micron polythene layflat tubing can be used to provide superior protection to products in situations where a lighter weight polythene may become torn or ripped. Widely used in packing for export, extra heavy duty polythene tubing offers greater resilience and abrasion resistance.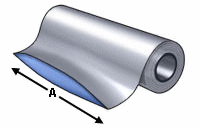 Please note: The width of the polythene tubing is measured when laid flat.
To calculate the diameter of layflat tube, multiply the width (A) by 2 and divide by 3.142.
Creating tailor-made polythene bags
Layflat tubing can be cut to any length to make custom sized bags. Simply slide the tubing over your item, cut to the desired length and seal both ends. Layflat tubing can be professionally sealed using a heat sealer. Alternatively close the bag using tape, staples or cable ties.
It can also be used to protect long cylindrical items such as rolled up carpets, blinds, posters etc.
The rolls have a 25cm diameter, except for sizes medium/heavy 48" which have a 19cm diameter and medium/heavy 36" that have a diameter of 21.5cm.

Downloadable product guide:
Technical data sheet for Lay-Flat Tubing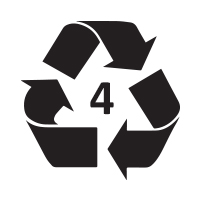 Click here for our recycling guide
Video:
Layflat tubing demonstration video
How to use layflat polythene tubing to create custom sized bags and protect long items.
We sell layflat polythene tubing in a range of widths and in 3 grades.
Medium duty tubing has a higher clarity and is more flexible.
Heavy duty tubing is more opaque and less likely to puncture. We also sell extra heavy duty.
Rolls can easily be cut to size to make custom sized bags.
Insert your product and seal with a heat sealer.
Our heavy duty tubing is ideal for heavier items such as rolled carpets and rugs.