How to pack and protect TVs – The Packaging Doctor
Packaging materials are often very versatile and are not only used for protecting goods in transit, but also to protect goods when they are in storage to ensure they are kept in perfect condition. This week, The Packaging Doctor helps a customer to protect his stock of TV monitors during their building refurbishment…
Dear Doctor,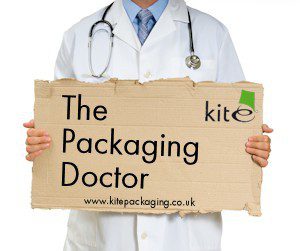 We are looking for some materials to wrap our stock of TV monitors as our building is being refurbished, and we do not want to put them in external storage due to the cost.
What could we use to make sure the screens are protected from damage and any dust or dirt that might be made during the refurbishment?
Many thanks,
David
Hi David,
Packaging materials are perfect for protecting items in storage as well as during transit, so we can definitely provide you with the products you need!
We would advise wrapping each of your TV monitors in Jiffy foam roll, a non-abrasive foam material that is used to protect delicate and sensitive surfaces. Perfect for protecting electronics during transit and storage, foam rolls are available in various thicknesses, widths and lengths so you can choose the most suitable for your stock. The rolls can be cut to size which makes it a suitable material for a range of sizes of TV monitors without the need to buy a range of alternative products.
We would also suggest adding a silica gel sachet into each wrapped monitor, so that it can absorb any moisture, which is particularly important to protect your electronic goods. Once you have secured the foam roll with tape, you could then choose to protect the vulnerable corners with foam corner edge protectors, which will ensure that the monitors are protected from any knocks or damage during the refurbishment.
A final material to ensure the TV monitors remain completely protected is to use pallet wrap to secure all the protective materials around the product. We have a variety of types including black security pallet wrap that you might want to consider using as the electronics are of value.
We hope that you will find these solutions suitable for your stock in order to protect it during the refurbishment!
Best wishes,
The Packaging Doctor
Note: All the packaging problems our doctor receives are real queries from customers or non-customers. If you have a packaging problem that needs diagnosing get in touch: Twitter @kitepackaging or email packagingdoctor@kitepackaging.co.uk