U-tulip corner protection
Our U-tulip corner protectors provide optimal performance in transit and reduce damage to delicate corners. They are non-abrasive, are extremely easy to handle and can be used time and time again.
Ideal for furniture, glass panes, doors, mirrors, and trickier items such as radiators, safes and antiques. U-tulip protection fits snugly around corners, providing protection around it and the immediate edge.
Manufactured using industry-standard non-abrasive polyethylene foam, they are much easier and quicker to apply than bubble wrap or paper padding. The corners have a 30kg/m3 density, making them highly shock absorbent.
*Please note that our U-tulip corner protection is not fire-rated.
We stock a huge variety of U-tulip corners, which can accommodate most corners for protection in transit, and in storage. They are supplied as pieces, all with a length of 200mm total (100mm height and 100mm width).
Ranging from small 5-15 corners right up to 80-100 corners, they are all non-scratch and designed with flexibility and high grip strength. They are temperature resistant from -40C to +100C and absorb very little water (less than 1% volume after 40 days). If you are a green company these foam pieces are also a great choice in fulfilling your sustainability aims – they are 100% recyclable and chemically neutral.
Dimensions
U-tulip corner protection is U shaped and each length measures 100mm.
The U-tulip is defined by its useable dimensions (for example 5-15mm) which are measured according to its 'A' (widest) and 'B' (narrowest) opening. For example, when a corner is 16mm thick a 15-25 piece is needed, however if a corner is 14mm thick a 5-15 foam piece is required.
The 'C' dimension is the length of the profile side. Dimension D is the thickness of the profile bottom.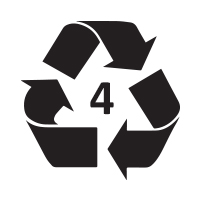 Click here for our recycling guide
Video:
U-tulip corner protection
See our range of U-tulip corner protection and how they can be used