How to pack and store Christmas decorations – The Packaging Doctor
This week, the Packaging Doctor helps a consumer to take care of her Christmas decorations for when they are stored during the years…
Dear Doctor,
We have recently put up our Christmas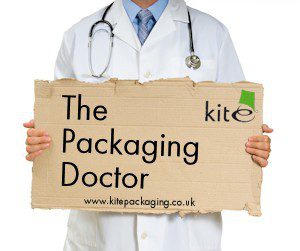 decorations, but the boxes we have used to keep them stored over many years have finally worn out!
Like many other households, we have a range of decorations such as fragile baubles, tinsel, wreaths and other items that we want to keep stored safely for the next year.
Are there alternative products we could look to use that might be more suitable than our previous materials?
Wishing you a Merry Christmas!

Deborah
Hello Deborah,
Thank you for writing in, we can certainly help you prepare for storing your decorations in the New Year!
A great, affordable solution for packing decorations would be to use Kite's range of single wall boxes, which are general purpose boxes ideal for packing a variety of items. Available in a huge range of sizes, you could choose to purchase some larger boxes for the lighter items such as tinsel, and smaller boxes for particular decorations to keep them safe during storage. These are easily assembled and sealed using our economy tape, and are very cost effective.
If you are looking for a way to organise your decorations so that you know what is in each box, you could choose to use either Kite's economy archive boxes, or Klikstor archive boxes. Both of these options are made from strong corrugated cardboard, and can be easily labelled to identify the contents of each box using the printed panels to write on. The Klikstor range is incredibly easy to assemble due to its unique design, but our handy guide makes assembling the economy range as simple. These boxes have hand holes so that they are easy to carry, which you may find useful when putting the boxes into storage.
For particularly delicate items such as baubles or decorated wreaths, you might want to consider using a protective material such as bubble wrap or foam roll. These materials will help to protect the delicate finishes of the products and will protect your items from knocks and any impacts and ensure all of the decorations stay intact.
We hope this will help to keep your decorations safe year after year, and wish you a Merry Christmas too!
Best wishes,
The Packaging Doctor
Note: All the packaging problems our doctor receives are real queries from customers or non-customers. If you have a packaging problem that needs diagnosing get in touch: Twitter @kitepackaging or email packagingdoctor@kitepackaging.co.uk