How To Package Baby Shower Gifts – The Packaging Doctor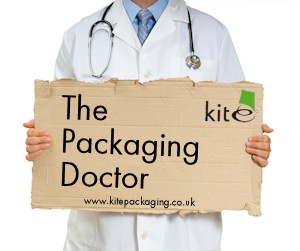 Welcome to a sunshine edition of the Packaging Doctor blog post! We can't believe how beautiful the weather has been, long may it continue. The summer brings lots of lovely things to the UK – festivals, barbeques, picnics and of course weddings and births. Why are so many babies born in the summer? Well whatever the reason the baby gifts industry is booming, and with the number of births in the UK at the highest they have been since 1970, new baby businesses are popping up all over the place.
So on to the patient – which as you may have guessed has a packaging problem of the baby variety…
Hello Doctor,
I am setting up a business that creates bouquets out of baby clothes. I originally started making these as a hobby 5 years ago, using old clothing from my own children which they had outgrown, for friends and family members who were going to baby showers or were expecting a baby themselves. The demand for my bouquets became so popular that I now do this full time, and have just set up my own online business making them and selling them from home.
I want the packages to look pretty, unique and eye catching to mirror the quirkiness of my bouquets and allow us to stand out from other high street baby gift suppliers but also at an affordable price. What would you suggest?
Thanks, Jenny.
Hi Jenny,
Thanks for your question- what a brilliant idea to recycle old children's clothes into a memorable gift for a new born.
I would suggest an 8 x 8 x 8 single wall cardboard box as these will instantly provide protection and reliability at an affordable price.
To incorporate some colour you could then fill the boxes with some of our acid free tissue paper, which is suitable for clothing, and is available in a range of bright colours. This will immediately catch the eye of your customer, it could even be personalised to each order, and is affordably priced.
Finish the package with clear polypropylene film, which is really popular with florists and craft makers, wrapping both around the bouquet and the lining of the box to add an eye catching finish to the package.
Hope that helps,
The Packaging Doctor
Note: All the packaging problems our doctor receives are real queries from customers or non-customers.
If you have a packaging problem that needs diagnosing get in touch on Twitter @kitepackaging or email packagingdoctor@kitepackaging.co.uk