How To Package Brownies – The Packaging Doctor
At Kite Packaging, the office is constantly flowing with a regular influx of cakes, biscuits, fruit, sweets and occasionally samosas when holidays such as Diwali are on. Food is also a key industry for us in terms of packaging, and several of our online customers are independent bakeries and shops who need a low cost, easy to use solution that protects delicate products.
It's worth noting that all our products that have been designed for the food industry are free from chemicals such as our blue pallet wrap, and even presentation packaging such as our tissue paper is acid free to prevent colour bleeding in to products.
Very occasionally we get to sample some of the treats that we have supplied to - like today's patient below. Sue's brownies travelled from Scotland to our call centre in Coventry without a scratch! Check out how she kept them in perfect condition.
Hello Doctor,
I have recently opened up my own bakery and one of my customers requested a sample of my brownies, the problem I find myself facing is that this customer is over 360 miles away!
I need to ensure that the brownies stay as fresh as when they leave the kitchen and arrive in one piece. I am also hoping that you can suggest a solution that is simple and also promotes a professional presence; ideally I would like to then use this packaging across the business for consistency.
Thanks, Sue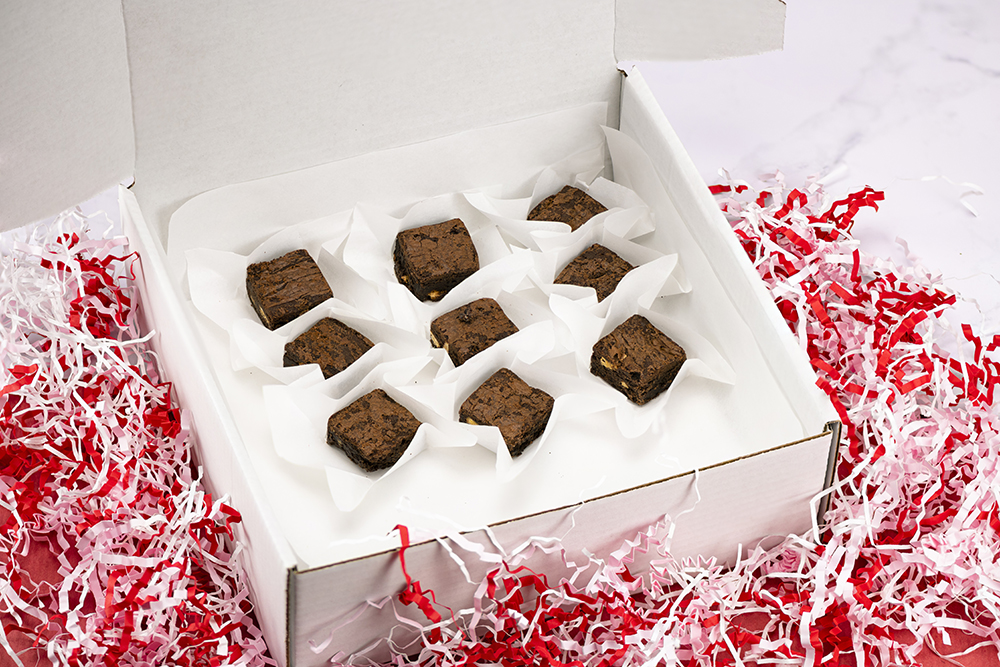 Hi Sue,
Ooh brownies, my all-time favourite sweet treat! Not to worry, I have the perfect, simple solution for you right at my fingertips.
Firstly, I would recommend our white cardboard postal boxes; these are a popular choice for companies specializing in attractive products and foodstuffs such as confectionery and cakes as they offer a secure and reliable delivery method with a professional and sophisticated finish. The boxes are available in a range of sizes and two different styles; the tuck in flap or pizza box style, both come flat packed with no taping required.
In addition to the postal boxes I would recommend some sheets of greaseproof paper to line the box and protect the brownies. This will prevent the transfer of moisture, keeping them from drying out during transit and Hivewrap can be added around the pieces for extra protection for long journeys. The greaseproof paper is made from a sulphite pulp that is both eco-friendly and suitable for direct contact with food while a Hivewrap exterior, also boasting excellent green credentials, ensures that the brownies arrive in one piece through the product's impressive shock absorption.
I hope this helps.
Best wishes,
The Packaging Doctor
Note: All the packaging problems our doctor receives are real queries from customers or non-customers.
If you have a packaging problem that needs diagnosing get in touch on Twitter @kitepackaging or email packagingdoctor@kitepackaging.co.uk