How To Package Cushions – The Packaging Doctor
The Surgery Is Now Open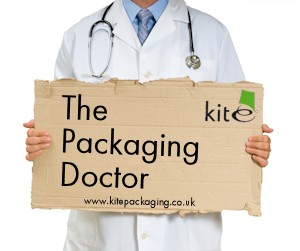 Hi Packaging Doctor,
I have just started an interior business which specialises in soft furnishings, and make cushions in various different materials. The cushions are currently all one size at the moment, a rectangular shape of 45cm X 30cm, so I will only need a couple of different sized packaging options – depending on whether a customer orders one or more items.
Do you have anything suitable?
Best Wishes,
Adelaide
Hi Adelaide,
Thanks for sending in your question, it's great to see the number of new ventures popping up this year. The first suggestion I would make is to use a double-wall box, although cushions are fairly light they are also incredibly easy to damage and a double-wall box will protect them from damp and scuffs.
Looking at your measurements I would recommend our 18 X 12 X 12 (inch) double-wall box, this fits the length and width dimensions of your cushions however it is also multi-scored – meaning the 12 inch height is perfect for shipping two cushions and it can be cut down to 9 inches to secure a single cushion.
If you require some more moisture proofing I would also recommend slipping each cushion in to a polythene bag before sending, and adding a sachet of silica gel to the package to really make sure that the product is kept dry.
Thanks and Best, The Packaging Doctor

Note: All the packaging problems our doctor receives are real queries from customers or non-customers.
If you have a packaging problem that needs diagnosing
get in touch on Twitter @kitepackaging
or email packagingdoctor@kitepackaging.co.uk