How to package dog beds – The Packaging Doctor
Many of our customers have a range of products that they require packaging materials for, and finding the most cost effective and protective solutions can sometimes be challenging. Fortunately, The Packaging Doctor and our experts here at Kite are here to provide assistance!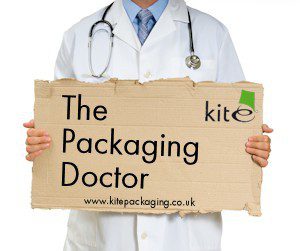 This week, our customer has a range of different sizes of dog beds that he needs to find packaging materials for…
Dear Doctor,  
My company sells dog beds and we need to find some good, protective packaging so that we can send them to customers using a courier.
Our beds are available in the following sizes
660 x 450 x 50 mm
800 x 500 x 50mm
970 x 590 x 50mm
1100 x 720 x 50mm
1250 x 800 x 50mm
What materials do you propose we use?
Regards,
Nick
Hi Nick,
To create a protective package, we first suggest wrapping each of the dog beds in Large Bubble Wrap. Our bubble wrap can be shaped around the product and can provide superior protection for your dog beds whilst they are in transit.
Once wrapped in bubble wrap, we then propose packing the beds in our standard Mailing Bags (in sizes KE6A, KE10 and KE9).  These strong, lightweight mailing bags are easily secured with a peel and seal strip. They are a cost effective packaging solution and adhere to the Royal PiP guidelines which makes it easy to calculate your postage costs.
For the large dog beds, we can provide you with Corrugated Paper, which can be used to wrap the bubble-wrapped dog bed. Available in a range of widths to accommodate the size of your products, the raised corrugated flutes provide protective cushioning; helping to ensure the dog bed arrives to your customer in excellent condition.
We hope you will find these packaging solutions suitable for your products and look forward to working with you very soon!
Best wishes,
The Packaging Doctor
Note: All the packaging problems our doctor receives are real queries from customers or non-customers. If you have a packaging problem that needs diagnosing get in touch:
Twitter @kitepackaging or email packagingdoctor@kitepackaging.co.uk