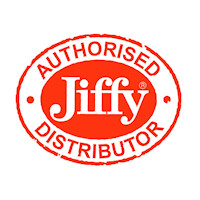 Large bubble wrap
If you plan on shipping fragile, easily breakable items, we recommend purchasing one of our bubble wrap products in addition to your cardboard packaging. Our large bubble wrap can be used in a wide range of applications, from interior packaging support to external wrapping and cushioning. We understand businesses rely upon secure transport, and we are proud to offer one of the most reliable and secure large bubble wrap products in the UK.
Depending upon the size of your project, we offer a range of competitive and budget-friendly pricing options on our large bubble wrap rolls. For our high-volume clients, we feature several bulk pricing options, as well as wholesale pricing reductions designed to ensure that each of our customers has a satisfactory, positive experience. If you have any questions about our large bubble wrap roll, don't hesitate to ask. You can talk directly to one of our trained service representatives over the phone, or search for the information you need on our easy-to-use website. More information about our big bubble wrap products is provided below.
About our large bubble wrap
Our large bubble wrap is the ideal option if you have large items to protect or sizeable gaps to fill inside packaging boxes.
Each of our large bubble wrap products is available in 50m rolls, ranging in width from 300mm to 1500mm. Thanks to a flexible, non-porous nylon barrier design, our large bubble wrap can be shaped to fit around your product whilst still offering superior protection from the bumps and bangs of shipping. Our large bubble wrap is also incredibly lightweight, helping to reduce the transportation costs for your product.
We are proud to feature Jiffy bubble wrap products, which offer superior bubble air retention and an 'easy tear' design for improved efficiency and ease of use.
Made from large bubbles (25mm x 9mm)
The bigger bubbles mean you can save money by using less material, making it surprisingly economical as well as being extremely convenient and secure.
Large bubble wrap refers to the fact it is manufactured with large bubbles. Each has a diameter of 25mm and a height of 9mm. Larger bubbles are better for filling bigger spaces or protecting larger items in transit. Bubble wrap is flexible, so it conforms to the shape of your product. It is also lightweight, which helps lower delivery costs.
Each of the bubbles in our large bubble wrap products are capable of supporting big, heavy duty shipping loads as well as individual items with large surface areas.
As one of the premier bubble wrap suppliers in the UK, we ensure that our large, bubble wrap products are capable of withstanding the trials of professional transportation and shipping projects. Whether your project is industrial or personal in nature, our large bubble wrap products will get the job done.
Longer cushioning power
Jiffy bubble wrap is a premium quality product in the market, with improved air retention properties over standard bubble. It is made by applying an extra nylon layer to the bubble film (through co-extrusion) to reduce air escape. This keeps bubbles full for longer, providing a longer usable life and improved cushioning of your products.
Bubble wrap from Jiffy meets MOD criteria.
Tears with ease
Our Jiffy branded bubble wrap can easily be torn in straight lines by hand (watch our demonstration video). There is no requirement for costly perforations.
You can find more information about how to buy our cheap bubble wrap products using our online checkout system.
Is large bubble wrap recyclable/biodegradable?
Mono (Kite small and large bubble)
Mono bubble is simply made from one sort of plastic PE and therefore easy to recycle, however, this is dependent upon local councils recycling guidelines so to find out more please check with your local council.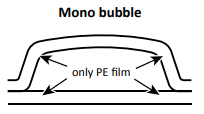 Barrier (Jiffy small and large bubble)
Barrier bubble, which has a barrier layer sandwiched between layers of plastic, the barrier is usually nylon and is much harder to recycle as the barrier layer is a contaminant, so if you a looking for a recyclable option our Kite small and large bubble or paper bubble wrap range is more suitable.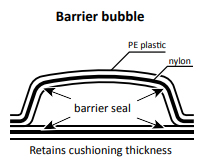 Ordering larger quantities?
Get ever better prices by ordering a mixed truck load of bubble wrap. You can mix-and-match any combination of styles and sizes, at one of the cheapest prices on the internet. Click here for prices and information.
* For orders of 11+ packs of bubble wrap, please allow 1 week for delivery. We are unable to deliver to the following postcodes: IV, KW, HS, PH1-44, AB, ZE, BT, Eire, PO30-41, TR, JE, GY, IM
Which is better, large or small bubble wrap?
Large and small bubble wraps are better suited to different purposes. Larger air bubbles do, however, have the advantage of using less material, minimising plastic usage for a more eco-friendly approach while reducing costs. Therefore, provided you are not wrapping anything especially small, bigger bubbles is often the most economically and environmentally smart option.
However, if your products are small or irregularly shaped, then small bubble wrap will have greater flexibility than the larger version and be able to reach small areas to ensure protection of fragile corners or handles, for example.

So, in answer to the question of what large bubble wrap is used for, it is primarily useful for wrapping large regularly shaped objects or void filling spaces within a carton. The large air bubbles are excellent for occupying spaces and providing strong cushioning to guard against most knocks and bumps.

How wide can you get bubble wrap?
The largest size of bubble wrap we offer at Kite is 1,500mm wide and 50m long in our premium or Jiffy styles. This should be adequate for most purposes but for exceptionally large objects, bubble wrap can be layered for a complete coverage.



Downloadable guides

Bubble wrap data sheet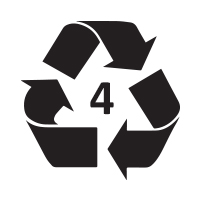 Click here for our recycling guide
Video:
How to order a mixed truck load of bubble wrap
A demonstration on how to order a mixed truck of Kite premium and Jiffy bubble wrap.
For customers requiring additional interior protection for fragile or delicate products, Kite Packaging offers a range of small bubble wrap products.