How To Package Handmade Coasters – The Packaging Doctor
Kite is well and truly embracing the festive season and as we approach the last few weeks leading up to Christmas, we understand the need for getting those final special gifts delivered safely and being presented to a high standard.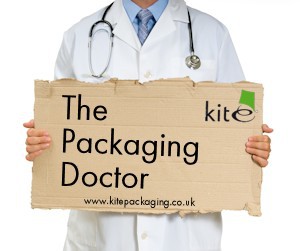 We can all appreciate the time and talent that is put into making handmade gifts and the sentimental factor it can have to the person receiving it, therefore it is crucial for businesses shipping these fragile handmade goods that the packaging is secure and presented to an extremely high standard.
Today in the surgery we meet a small business selling handmade products and searching for a secure and presentable packing solution. Read below how I helped prescribe my latest piece of handmade advice…
Dear Doctor,
I hope you can help. I have recently started a small business selling handmade coasters and I am looking for a way to securely send these items, along with them looking presentable due to the nature of the product and the likeability of them having been ordered as a special gift.
They are very special items and I want them presented in a way that demonstrates this, they are also fragile and I am worried that they will be slightly damaged in transit.
I am unsure of what products of yours will be best to use as I want both secure and presentable packaging, what can you suggest?
Thank you,
Rebecca
Hi Rebecca,
Thank you for getting into contact with us.
I completely understand the importance to your beautifully handcrafted products arriving safely and how you desire them to be perfectly presented after the time and effort you have put into creating such unique pieces for individuals.  Let me present to you our beautifully presentable white postal boxes, coloured tissue paper and fragile labels!
I would suggest 110 x 100 x 70 mm white cardboard postal boxes with white inner and outer, they are highly presentable, quick to assemble and will instantly protect your items.
To incorporate some colour and to make the packaging presentable you could fill the boxes with some of our acid free tissue paper, available in a range of bright colours. This will immediately catch the eye of your customer, it could even be personalised to each order, and is affordably priced.
To ensure protection through transit finish the packaging with fragile handling labels, this will ensure boxes/parcels are handled in the correct manner with care. All labels come on a roll for easy application.
Hope this helps!
The Packaging Doctor
Note: All the packaging problems our doctor receives are real queries from customers or non-customers.
If you have a packaging problem that needs diagnosing get in touch on Twitter@kitepackaging or email packagingdoctor@kitepackaging.co.uk