How to package jars of Peanut Butter – The Packaging Doctor
Whether you spread it on toast, add it to cakes or sneak a spoonful straight from the jar, peanut butter has become a staple food cupboard favourite! Inspired by The Great British Bake Off and experimenting with flavours, this week The Packaging Doctor helps a business owner to package jars of peanut butter he makes and sells to ensure his customers receive the perfect ingredient for homemade goodies!
Dear Doctor,

I need some packaging advice!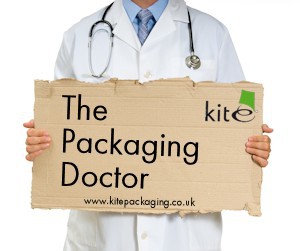 I make and sell peanut butter, and need a packaging solution that can allow me to distribute them in quantities of 12. The jars measure 81mm x 65mm.
I need the individual jars to be protected so that they all arrive in perfect condition – what would be the most efficient materials to use?
Kind regards,
Stuart
Hi Stuart,
Thank you for your query – we can definitely provide you with some packaging advice!
For the outer packaging, we suggest using Single Wall Cardboard Boxes (305x305x305mm) to pack 12 jars in one box. These boxes are multiscored, which allows you to reduce the depth of the box so that you can create a box to fit the jars perfectly.
The boxes are delivered flat pack, and are easily assembled. They can be sealed using our Economy Packing Tape (available in Brown or Clear), using our Universal Tape Dispenser to make the process easier and more efficient.
To protect the jars within the box, we propose using a Speedman Box. This low cost, easy to use void fill solution dispenses environmentally friendly paper which can be used to wrap around the jars, so that each is protected during transit. You can view a  demonstration video on our website which shows how the Speedman Box can be used as a protective packaging solution!
These packaging materials are sure to keep you peanut butter jars safely protected during transit, and ensure all of your customers receive their peanut butter in perfect condition!
Best wishes,
The Packaging Doctor
Note: All the packaging problems our doctor receives are real queries from customers or non-customers.
If you have a packaging problem that needs diagnosing get in touch:
Twitter @kitepackaging or email packagingdoctor@kitepackaging.co.uk