How To Package Kitchen Equipment – The Packaging Doctor
The Surgery Is Now Open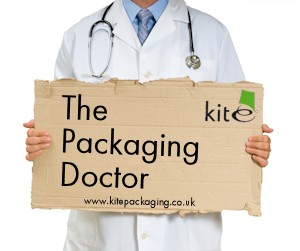 Dear Doctor,
I co-own a business that supplies catering equipment to the food industry, mostly in industrial kitchens however we do sometimes supply to domestic customers. We have recently launched a new product and we are struggling to find suitable packaging for it.
The new product is a food mixer; the dimensions are 22 inches in length and 7.5 inches in width. I'm having trouble finding a long, narrow box that fits this size – we have explored the bespoke option and though we'd like our packaging to be branded, we find it's going to be too expensive. Do you have any suggestions?
Thanks in advance, Caroline
Hi Caroline,
Kitchen equipment such as this is notoriously hard to package as it is often heavy yet fragile at the same time. Our lay-flat tubing is the best option for packaging long and narrow objects and is very easy to use as all you need to do is slide the tubing over your item, cut to the desired length and seal both ends. Lay-flat tubing is a popular way to package items as it not only looks great, giving your customers a presentable looking, and memorable package but is manufactured from thick, strong polythene so it will also protect your product.
If you are sending these products out via third party carriers I would suggest using some extra protection such as bubble wrap which will absorb any shock impact and reduce chances of the product being damaged. To finish, either place in a grey mailing bag which offers superb tear resistance or a standard cardboard box of dimensions 24.5 x 9 x 10.25 inches which is the closest dimensions to your product – you can fill any voids with the leftover bubble wrap.
You mentioned wanting to brand your product but was worried about the costs, this is why we launched custom-printed tape for our online customers. You can print your own logo on to various different rolls of packaging tape, and use it as a label or to seal and secure your packages. What's more, our custom printed tape prices start at just 99p per roll when you buy in bulk.
Best Wishes, The Packaging Doctor

Note: All the packaging problems our doctor receives are real queries from customers or non-customers.
If you have a packaging problem that needs diagnosing
get in touch on Twitter @kitepackaging
or email packagingdoctor@kitepackaging.co.uk